The ceremony for Oscar's 90th year was an unfortunate let down. The only speech that moved me at all was Frances Mcdormand, the musical performances were forgettable at best (at worst they were off key), and worst of all, there wasn't a single dress that really wowed me. It seemed like in the wake of #metoo and #timesup everything was very restrained. The Golden Globes were much more lively and impassioned, but it seems like Hollywood has lost their steam. Or maybe they just lost their way without Oprah there. Either way, the ladies on the red carpet still had to wear something, so I will now dissect it.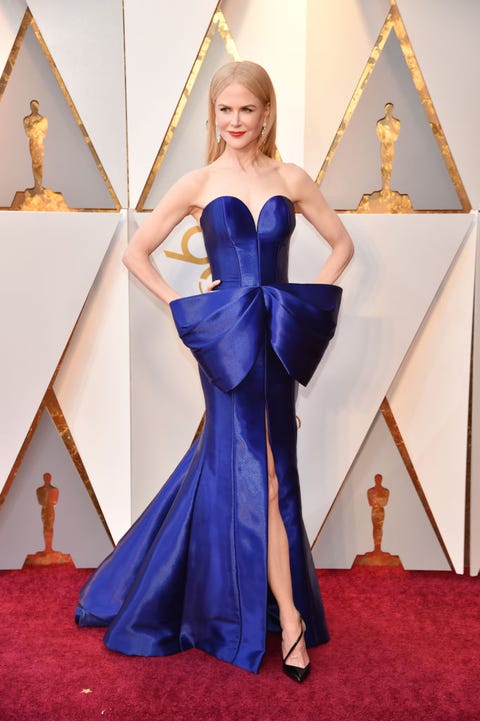 Nicole Kidman in Armani Prive
I know this look topped a lot of best dressed lists, but I am not a fan. The fabric looks very stiff to me, which gives the dress a bit of a dated look, and all I can think of when I look at her chest is a pair of Mickey Mouse ears. I am not and never have been much of a fan of the deep sweetheart neckline. As well, I am not into bows. This one is particularly offensive. A hard pass for me.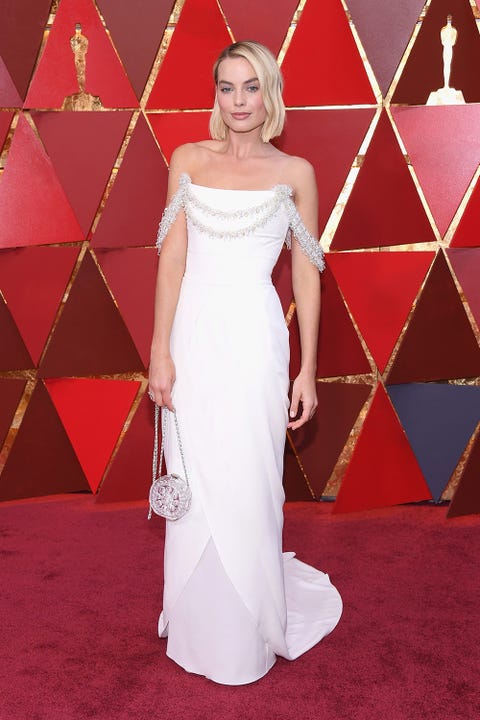 Margot Robbie in Chanel
This is one of my favorite looks of the night. Impeccable fit of course, and I really like how this is bit of a different take on the off the shoulder trend. The trailing crystals really make this a special dress. I also just LOVE her bag!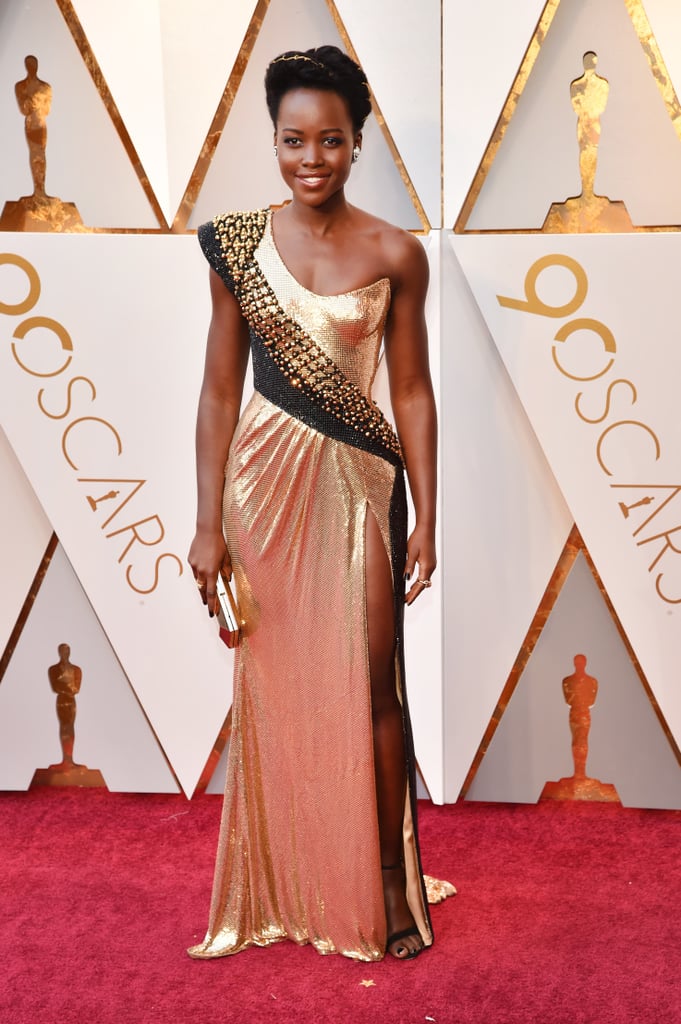 Lupita Nyong'o in Atelier Versace
I really wouldn't have minded this dress at all if it weren't for the horrifying black shoulder sash thing. It looks like she ran out of time and just swiped something from the costume department on the set of her new superhero movie. Someone involved in the design of this was like "hmm...it really needs something
extra."
Well it didn't need anything extra and in adding it, the whole thing fell apart.
Sometimes more is not more.
Gal Gadot in Givenchy
This is one of my favorite looks of the night. I love some sparkle and fringe, and this is the right way to do it. We all know how wrong sparkle and fringe can go (think Vegas showgirl), but this has more of a vintage vibe. The key to pulling this look off, aside from impeccable tailoring, is having a small chest. The lariat necklace (Tiffany, and valued at more than my condo probably), which is simply stunning, perfectly compliments the gown. This is a winner!
Sandra Bullock in Louis Vuitton
I really like this dress with the high halter neckline and ombre scattering of gold sequins, but her hair and makeup made me really sad. The flat long hair takes away from the dramatic neckline of the gown. I would have loved a high ponytail, and the eye makeup is way too heavy. Hair and makeup can really make or break an outfit, so this is very disappointing.
Jennifer Garner in Atelier Versace
YAAASSS! This might be the best that Jennifer Garner has ever looked! Sexy, classy and timeless perfection. The colour of the gown is simply stunning and her hair and makeup are on point. Although this gown is nothing we haven't seen before, I love the classic Versace Greek goddess vibe we're getting here, and the shoulder scarf accent adds the perfect amount of dramatic effect.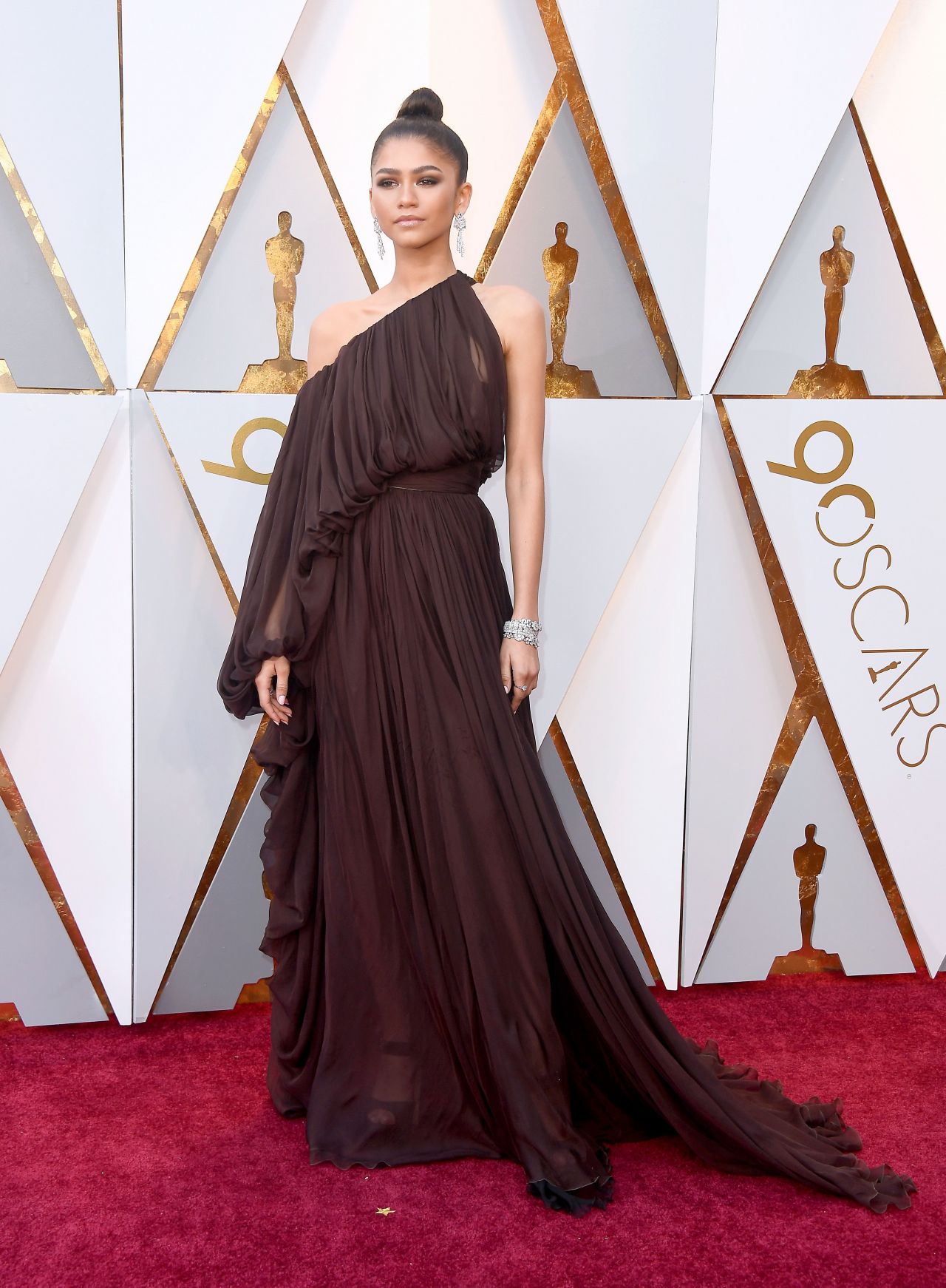 Zendaya in Giambattista Valli
I truly hate this dress. Brown might be the ugliest possible colour choice for a red carpet gown. In fact, brown is a pretty ugly colour overall. Aside from the hideous colour choice, the cascading piles of fabric almost swallow this poor girl up!
Emily Blunt in Schiaparelli Haute Couture
This is not a good dress. For starters, the colour is terribly unflattering on her and completely washes her out. What completely ruins this dress for me though, is the little pouffy cap sleeves. Why were those even part of the design? Take those away and it's a cool halter style. Another gown ruined with too much pouf...
Jennifer Laurence in Christian Dior
Jennifer Lawrence usually tops my best dressed list, but this was a miss for me. Something about this look reads as a bit trashy to me, and I can't quite put my finger on what exactly it is. The makeup for sure is a bit heavy, and I think it would have come across better if her hair was up. Something about the hair is off. I think it's too soft and casual looking for this dress. While I don't hate the dress itself, I do think it would be better without the line of darker sequins across the hips and the tiny spaghetti straps.
Salma Hayek in Gucci
Worst dressed alert! Yikes. This looks like the result of a drunk trip to Fabricland and Michaels followed by unsupervised access to a glue gun and/or Bedazzler. There is far too much going on in one dress and all of what is going on is pretty tacky. Her tiny stature combined with her enormous bosom does not create a canvas conducive to tiered layers of lilac sequins and a crystal harness. This is just a terrible terrible mess, and a true red carpet tragedy.
Samara Weaving in Schiaparelli Couture
This was one of my favorite looks of the night. The soft chiffon-y fabric is perfectly offset with the metallic belt. I love the orangey red colour, and the flowy seventies vibe. It reminds of a dress that Lauren Hutton wore to the Oscars in the seventies, but hers was done in pastel shades. I would lighten up her eye makeup a little though, less black and maybe more gold shimmery eye shadow would look prettier.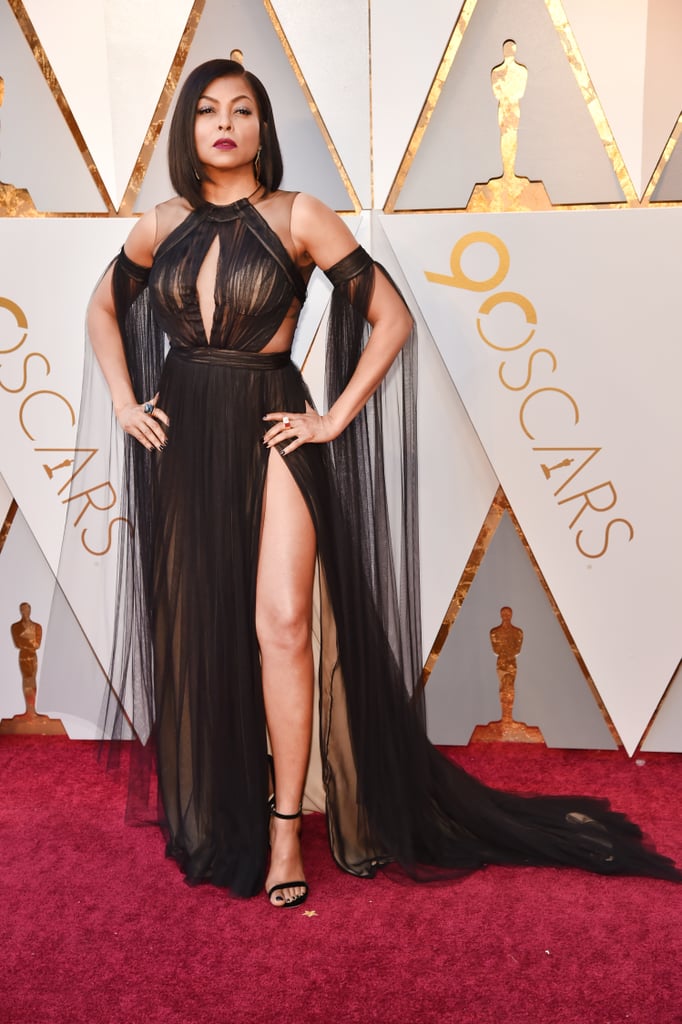 Taraji P. Hensen in Vera Wang
This is just completely wrong and heinous on all levels. Especially compared to how fantastic she looked last year! What could have gone so wrong with her taste level in one short year? Too sheer, too many awkwardly placed cut-outs, too much of a slit, and when I saw her being interviewed, I am 99% sure that I saw a nipple. the shape isn't even flattering and I loath the weird arm bands. Vera Wang should be ashamed.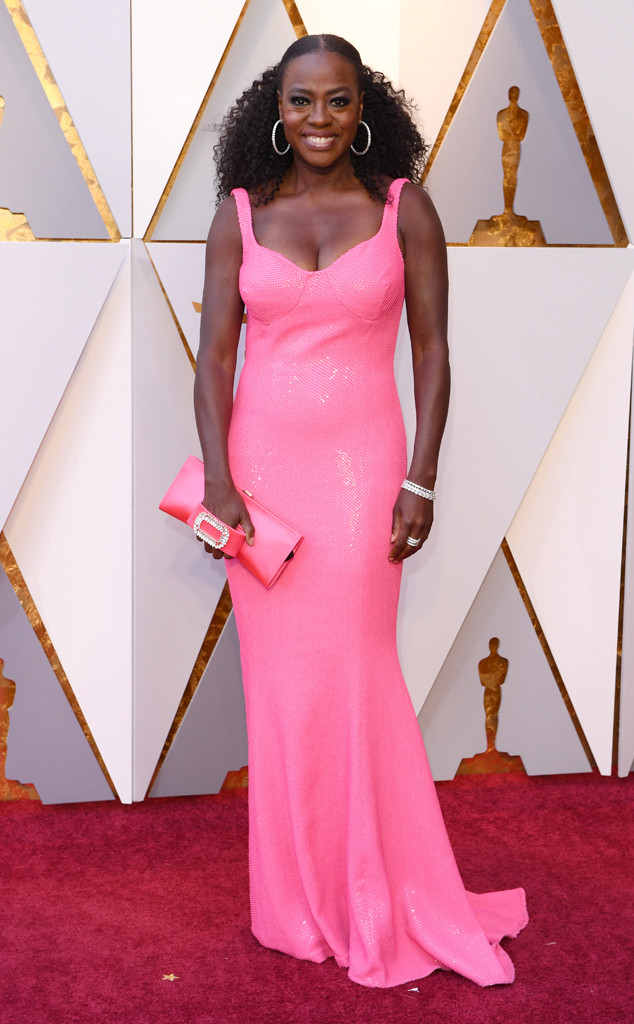 Viola Davis in Michael Kors Collection
This was a miss for me. The Pepto Bismol pink is really tricky to pull off in a gown, and it is especially tricky when it is done in a sequined fabric. It just looks cheap to me, and the seaming under the boobs doesn't help. I am not a fan of the neckline and the thick shoulder straps either. Adding to overall effect is the poor choice of hairstyle. Viola Davis usually looks really good, so this is a disappointment.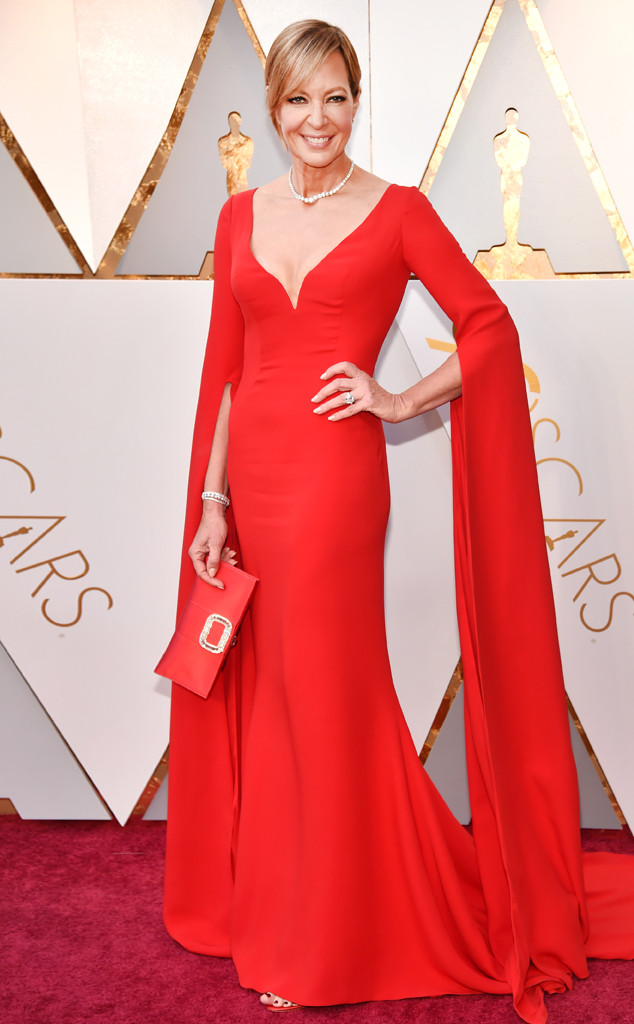 Allison Janney in Reem Acra
Definitely one of the best of the night. I am really loving red right now, and the shade looks great on her. Of course, the impeccable fit and tailoring is key. The simple diamond necklace and coordinating clutch are perfect finishing touches, because with an epic sleeve like she has here you don't need much more. I am getting strong Morticia Addams vibes and I love it!