I missed doing a post on the Golden Globes this year, but everyone knows the main take away was Oprah's speech, which overshadowed everything else including everything on the red carpet. So instead, I will begin awards season with the SAG awards. I will save the best for last, so lets get right to the worst of the night, and wow, were there some real eyesores.
Kate Hudson in Valentino
I think that this is the first time that Kate Husdon has been on my worst dressed list. In fact, she is often on the best dressed list! To start, the haricut is not good, but we can't blame her for that since she had to shave her head for a movie role. A severe and less feminine hairstyle really looks best when offset with a sexier and sleek look. However, this Victorian-esque ensemble that Kate chose looks TERRIBLE with her new pixie cut. Somehow this gown manages to look both extremely dowdy and like it was meant for a six-year-old. Kate's 72 year old mother had a more youthful look for the evening.
Sally Hawkins in Dior Haute Couture
I am all about a good jumpsuit on the red carpet. However, this is not good. To me this seizure-inducing ensemble is only good for one thing: a clown costume. I cannot believe that this came out of the Dior atelier, it looks more like it came from somewhere called Bozo's House of Clowns. Be really careful not to look at this for too long, because I do strongly feel that it could permanently damage not only your retinas, but your brain too.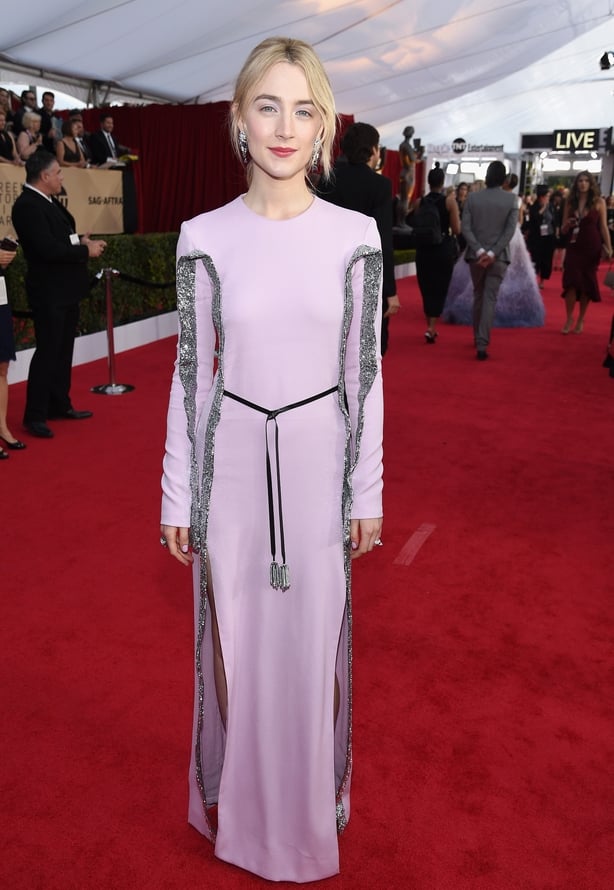 Saorise Rownan in Louis Vuitton
This looks like reject from Princess Leia's closet. It's ill-fitting, unflattering and unfashionable. A major miss, especially from an actress who is nominated.
Kristen Bell in J. Mendel
This is so bad. It's dated and uninspired. How many times have we seen something like this? A better question is why would we ever want to see again? It wasn't any good the first fifty times. The dress she wore for her hosting duties was 1000% better:
Lupita Nyong'o in Ralph and Russo
She somewhat resembles a silver mermaid and I love it. The gunmetal colour is gorgeous on her, and the fit is flawless. A straight across strapless style is tricky to get a really good fit, and so usually I don't like this style, but it really works here.
Mary J. Blige in Jean Louis Sabaj
This is so cool, it looks like Morticia Adams being caressed by an angel wing. I love the graphic black and white and the ombre effect in the feathers. The only things I would change are her hair and earrings. I think a really sleek and simple updo and minimal earrings would have been better with such a statement gown.
Mandy Moore in Ralph Lauren
This is my top look of the night. She manages to make the trendy slip dress look timeless and classic. The colour is stunning and I love that it has some shimmer to it. I like the coordinating clutch and her hair and makeup are perfect. The only thing I would change is to do more of a statement earring.
Tracee Ellis Ross in Ralph and Russo
I love a good cape and this all white ensemble does not disappoint. Keeping the whole look monochromatic save for a bright red lip really makes the whole thing pop.
Allison Brie in Dundas
I absolutely love that this gown is a bit of an homage to her role on GLOW as a professional wrestler. Red with a metallic lighting bolt applique could look like a literal wrestling costume, but instead she somehow manages to look edgy and sophisticated.
Yara Shahidi in Ralph Lauren
Ralph Lauren wins the night! I lied before because this look might just nudge Mandy Moore out of the top spot. As I said before I love a jumpsuit on the red carpet, but a jumpsuit with a train?? It's the best of both worlds. The big hair and earrings and bold lip perfectly compliment this high fashion look. She nailed it 1000%.