Well, my fashionistas, it would appear that fall is in the air. The leaves are turning colour, there is a chill in the air, and the days are much shorter. There is an upside, though. Now we can start wearing the fashions we saw go down the runways all the way back in February! Here is a list of some of my favorite looks that I will be wearing this fall.
Clean & Classic
This is a look that never goes out of style. Brought back into the fashion limelight primarily by Phoebe Philo at Celine, I liked it best on the Gucci runway, featuring beautiful camel colours, sexy boot-cut trousers, leather, and fur.
Gucci F/W 2010
Celine F/W 2010
The classic pointy-toe shoe is also back in a big way for fall. Unfortunately, it was often featured on a low or even kitten heel, which I am NOT a fan of. Louis Vuitton did my absolute favorite style of the season. The pointy toe makes it classic, but the chunky heel and oversive bow keep it modern.
Louis Vuitton Shoes in ostrich and crocodile A/W 2010
Fur (real or faux)
Oh, how I love this trend...the fur trend can be done in a very classic, grown-up way or in a young, fun way. And this season, faux fur is more than acceptable. Karl Lagerfeld sent a plethora of it down the Chanel runway, and if it's good enough for Karl then it's good enough for me.
Chanel A/W 2010
Gucci F/W 2010
Leopard-print
Now, this is one trend that never seems to die. This season, though, it was out in full force. Seen at Dries Van Noten, Yves Saint Laurent, Gucci and Dolce and Gabbana. With this trend try to keep the silhouette classic, and beware or wearing this in anything other than accessories after a certain age, for fear of looking like a cougar.
Dolce and Gabbana F/W 2010
Dries Van Noten F/W 2010
Gucci bag F/W 2010
YSL shoes A/W 2010
Lady-like Glamour
Rather than the overt sexiness that we have seen on the runways over the last few seasons, this is a more grown-up approach to sexy. References to the 1950s, with full skirts or tight pencil styles, and lots of bustiers with sweaters was seen at Dolce and Gabbana, Prada, and Louis Vuitton.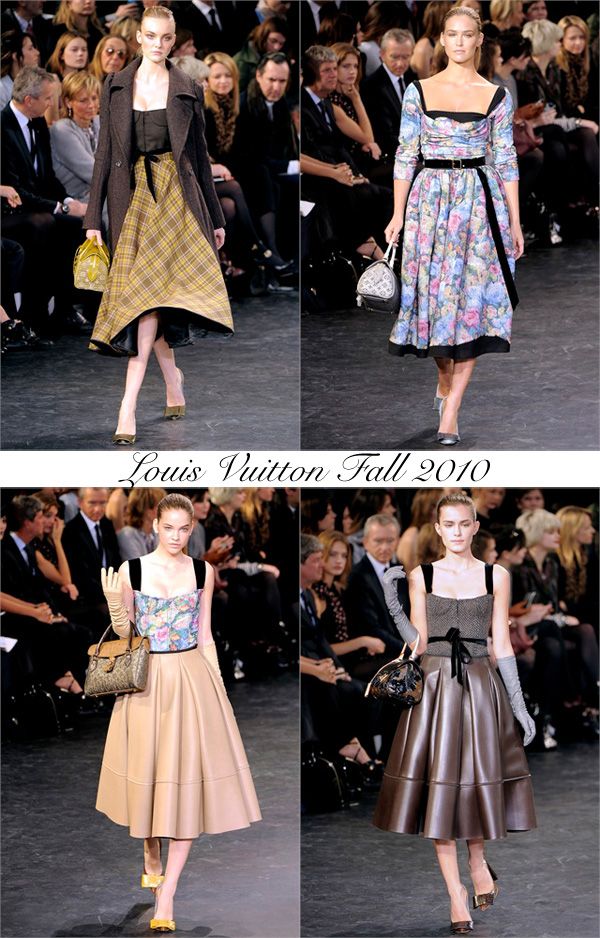 Louis Vuitton F/W 2010
Dolce and Gabbana F/W 2010