The Golden Globe Awards aired live on Sunday night, which of course for me means an evening of fashion judgement. Here is my list of the best and worst.
The Worst:
Number 5
Leighton Meester in Burberry. She is only at number 5 because the amazing Jimmy Choo shoes she is wearing elevate the awful frumpiness of this dress slightly. This girl normally looks so gorgeous, but here she looks like a Hutterite.
Number 4
Megan Fox in Armani. While I have a deep dislike for the complete waste of space that is Megan Fox, I usually think she looks pretty amazing - really all she is good for. However, this pink rhinestone encrusted disaster looks like something from a bad prom in the late 1990s. Also, I think she is getting too skinny.
Number 3
Lea Michele in Oscar de la Renta. Epic fail. This Pepto Bismol eighties prom disaster is remeniscent of a labia. Just no. NO.
Number 2
Jennifer Love Hewitt in Romona Keveza. How this woman managed to get a man to accompany her anywhere in this dress is beyond me. Maybe she paid him. This dress is the nightmare of every bride with even an ounce of style or taste. Fugly to the maximum degree. Her hair is also terrible.
Number 1
Michelle Williams in Valentino. A fail of the part of Ms. Williams as well as Valentino for making this abomination in the first place. Bad hair as well. Frumpy, dumpy, sad hippy dress that doesn't even fit her properly. Heinous!
Now, on to the best!
Number 5
Brad and Angelina, both in Versace. This gorgeous green was the colour of the evening. She looks to effortlessly stunning is this shimmering gown.
Number 4
Mila Kunis in Vera Wang. Here is that gorgeous green again. This is so, so pretty, I absolutely love this asymmetrical shoulder and the ruching.
Number 3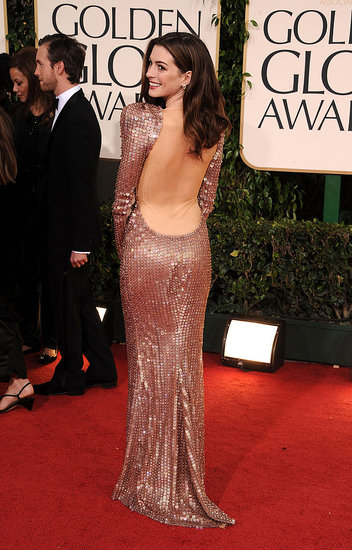 Anne Hathaway in Armani. So Hollywood glam. She looks like a golden mermaid. Stunning.
Number 2
January Jones in Versace. This is how you make small boobs look fantastic. Love the dress, love the hair, love the makeup, love the minimal jewellery. Love, love, love!
Number 1
Eva Longoria in Zac Posen. TO DIE FOR. I almost cannot express my words of amazement for how amazing she looks. STUNNING, GORGEOUS. She looks like a glam Morticia Adams. Love the train, love everything. Eva is my favorite red carpet style icon.