The world has lost one of its greats. Elizabeth Taylor passed away on March 23rd, 2011. One of the most talented and beautiful actresses of Hollywood's Golden Age, with her bewitching violet eyes, she will not soon be forgotten. She won two Academy Awards, for her performances in
Butterfield 8
and
Who's Afraid of Virginia Woolf
, as well as a Humanitarian Academy Award for her work fighting AIDS. In the 1950s she was voted the most beautiful woman in the world.
Throughout her colourful life she was married eight times, twice to the same man. That man was Richard Burton, whom she called the love of her life. In one of her last interviews, she was asked if he were still alive would they have been married again, and her reply was, "It was inevtitable that we would be married again, but it's not up for discussion." According to reports, she had saved all the love letters he had ever written her. Theirs was a love story for the ages. Perhaps the two are reunited at last.
Elizabeth Taylor is best known for her roles in
National Velvet
,
A Place in the Sun
,
and of course,
Cleopatra
. She met Burton on the set of
Cleopatra;
apparently during the filming of a love scene the director had to yell "Cut!" several times before they broke apart. The term "paparazzi" was coined during the filming in Rome in response to the chaos that follwed the pair as they began their romance.
I am not sure there has been a stonger woman in Hollywood than Elizabeth Taylor. She has survived divorces, widowhood, alcoholism, and multiple illness, all the while being scrutinized by the public. A woman of true gumption, she will forever live on in our hearts.
With Richard Burton, wearing the famous Burton-Taylor diamond, weighing in at 69.42 carats.

Taylor as Cleopatra.
With Paul Newman in
Cat on a Hot Tin Roof.
Wearing a turban, a fashion statement Taylor championed.

A still from Cat on a Hot Tin Roof.


With Burton in Cleopatra.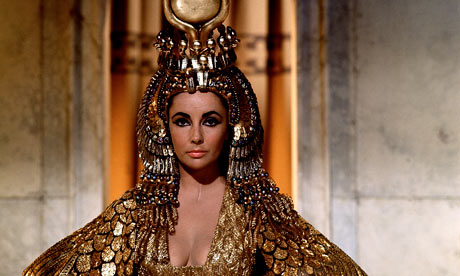 Fabulous headdress.
In National Velvet at age 12.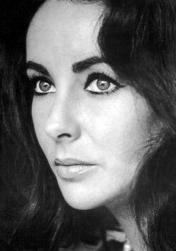 The famous violet eyes.
Farewell, Elizabeth. We will never forget you.