The fabulous London-based designer Charlotte Dellal's latest offering from her shoe line, Charlotte Olympia, is as usual, swoon-worthy. At London's Fashion's Night Out back in September, Dellal could be found in her shop hand-painting some of her most famous shoes. Since it was such a hit, she carried the idea a step further. You can now custom order a pair of her signature Dolly platforms with a famous painting of your choice on it! AMAZING.on
Dollys inspired by Mondrian, Picasso, and Pollack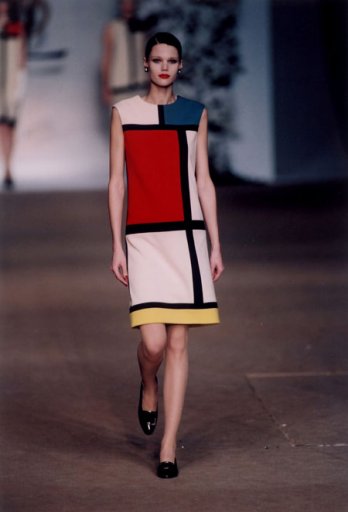 The famous primary colour-blocking of Piet Mondrian also made it onto a YSL dress in 1965.
The upper of the shoe features a famous artist, but the sole is all Charlotte Olympia, featuring her signature spiderweb.
I love the Jackson Pollack shoes!
The Picasso Dollys are the most popular, but personally, I like them the least.
All of the shoes were hand-painted by famous British artist and photographer, Boyarde Messenger. For more information on the artist, visit
http://www.boyarde.com/
. If only my biggest problem was choosing between the Pollack and the Mondrian!