I have compiled a list of the five best-dressed and five worst-dressed attendees of the 2012 Golden Globes ceremony. Who was your best and worst?
Number 1
Salma Hayek in Gucci. I love, love, love this art-deco inspired gown. Of course she had to be number one, her globes are golden!!! Hahahahahaha....really, I'm just jealous of this bitch's incredible rack.
Number 2
Emma Stone in Lanvin, with an eagle belt! I love how this dress is just sheer enough, with the slightest flash of leg. And I love the shoulders. And the colour. Really, this is tied for number one, but I had to give it to Salma, what with her golden globes and all.
Number 3
Charlize Theron in Dior Haute Couture. Obviously. What else would she be wearing? Love the headband, love the shoes, love the leg.
Number 4
Sofia Vergara in Vera Wang. This bitch knows how to work a mermaid dress. And the navy is very now.
Number 5: Its a Tie!
Laura Dern in Andrew Gn.
Evan Rachael Wood in Gucci. This reminds me of a mermaid crossed with Black Swan, in a really good way. Both Ms. Dern and Ms Wood would have ranked much higher in score for their dresses, but both of them lost major points for hair. Bad hair can ruin a look. I wish Ms. Dern would have had straight hair with this dress, and I think that Ms. Wood would have looked better as a bruntte. If I was ranking the looks on the dress alone, these two likely would have been second and third, but due to poor styling they ended up tied for fifth...
Now for the worst...in descending order, I'm saving the worst for last.
Number 5
Angelina Jolie in Atelier Versace. I hate the matching bag, lips, and colour slash at the neck. Barf. Also, she should have worn nude shoes. The top half of this dress is extremely cheap-looking (remind anyone else of Le Chateau, perhaps?). To top it off, she is giving herself terrible proportions, her shoulders look way wider than her hips. The only redeeming feature of this is the detailing at the waist.
Number 4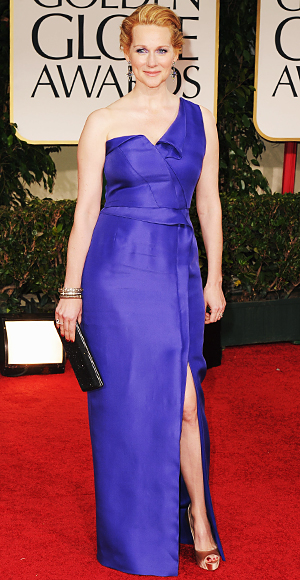 Laura Linney in J. Mendel. Ick, this looks SO CHEAP. The length is awkward and it doesn't fit her very well. This looks something that would be worn at a junior high graduation.
Number 3
Madonna in Reem Acra. Everyone else has moved on from the fingerless gloves and the giant crosses, so why can't she? Bitch needs to find a new way to be relevant. The bottom half of her dress looks as though it was fashioned from bits of leftover Christmas wrapping paper. Just looking at the top half makes my boobs hurt.
Number 2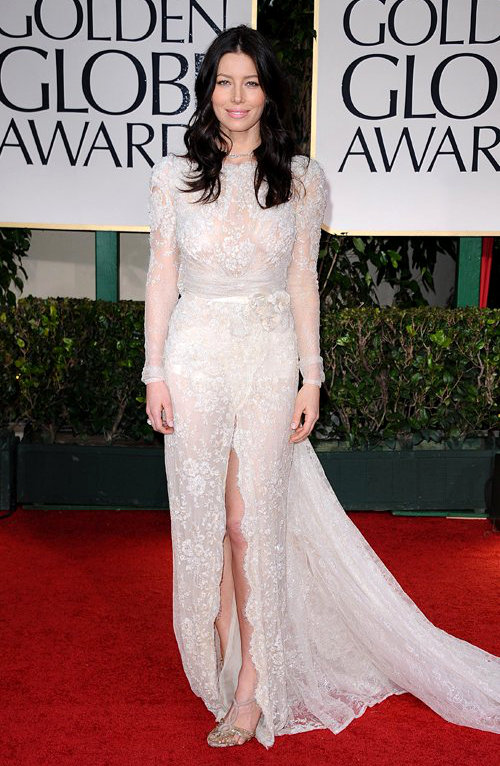 Jessica Biel in Elie Saab. She has three boobs. And one of her toes in creeping out of her shoe. Oh, and her dress is hideous. I think Emily Bronte might have liked this.
Number 1
Michelle Williams in Jason Wu. Velvet is unforgiveable. And so is her headband. I also feel she deserves to be punished because the only person she thanked was her daughter for her best actress win for My Week with Marilyn Monroe. In what world exactly, does a seven-year-old have any sort of influence on how well someone can portray the most famous woman who ever lived? I bet she picked this heinous dress, too.