Now that April has arrived and the snow is melting, it's time to start thinking about what to wear this spring and summer. All those gorgeous clothes we have been seeing in the pages of fashion magazines since last September are now available to buy, and its getting time to be wearing them too! Since the Canadian summer is often something that you might miss if you blink, I'm not going to wait to try out my very favorite summer trends and classic must-haves. What will you be wearing when the sun shines?
Trend #1: Coloured Trousers
Not to be confused with the other trend, coloured denim, this trend calls for a slim cut trouser, worn to the ankle or a longer flared style, in a bright pop of colour. So far my favorite colours are coral, turquoise, and bubblegum pink. A bright trouser is a perfect piece to try out the colour blocking trend that we first saw last spring (most notably on the Gucci runway). Pair a turquoise pant with a pink shoe, a yellow blouse, a fresh white jacket, and ta-da! Colour-blocking is easy-peasy!
J. Crew pants seen on the street.
Cheryl Cole rocking the colour-blocking.
Trend #2: Pastels
Very ladies-who-lunch, this look requires light, feminine elegance. Reminiscent of beautiful French pastries in a range of pistachio, robin's egg blue, pale pink, and lemon yellow this does require something a bit edgier to pull it off without looking like a pastry yourself! If you are not keen on a head to toe pastel look, incorporating the colours into your accessories is an excellent way to participate in this trend. I plan on mixing pastels with crisp white for a summery and gorgeous look.
The carousel on the Louis Vuitton spring runway.
Macarons from Laduree. My inspiration!
Trend #3: Ankle-strap Shoes
This trend unfortunately does not work if you have any sort of cankle. However, if you have slimmer ankles, the ankle-strap shoe can be extremely flattering and sexy. I particularly love an ankle-strap shoe in nude or metallic. I am now on the hunt for the perfect pair!
Guiseppe Zanotti wedges on the feet of Kim Kardashian.
Nude Lanvin pumps. Gorgeous!
Trend #4: Nautical
I don't really count this as a trend, but more of a tried and true summer classic that can be pulled out from the back of the closet every spring. Wide-leg sailor pants, the classic red, white and navy combination, jute wedges, printed canvas, and gold finishes. Anchors away!
A look from the Yves Saint Laurent resort 2012 runway.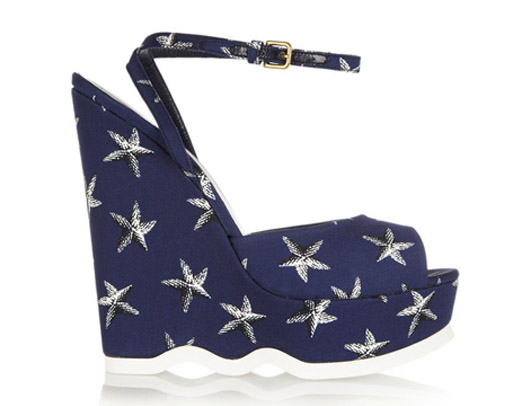 The Riviera wedges from the YSL resort collection.