I know this post is extremely late, so please forgive me. I just couldn't resist doing a post about the fashion (or lack thereof) at the Cannes Film Festival, which was way back in June. Anyway, here it is:
Best Dressed:
Number 5
Cheryl Cole in David Morris. I think that Ms. Cole is one of the most beautiful people ever, and I love her style for the most part. This gown is no exception, and she would have been higher up on my list if she had either been on a carpet that was not red, or the feathered bottom portion of her gown had been a different colour. The red on red does not do this beautiful piece of fashion justice! That aside, she looks stunning. I love the matching red clutch and nails, but I appreciate the fact that she did not take things too far and go for a red lip as well (overkill!). Overall, she looks amazing, it's just too bad the carpet wasn't blue or something.
Number 4
Jessica Chastain in Gucci Premiere. I love everything about this. The peachy nude shade looks so nice against her pale skin and red hair, and I lo
v
e the smattering of gold sequins. I would totally wear this.
Number 3

Diane Kruger in Giambattista Valli. I love how this mint green (very on trend for spring) confection has so much flow and movement. Ms. Kruger appears to be channeling another famous blonde, Grace Kelly, to great affect. Simply gorgeous.
Number 2
Diane Kruger in Vivienne Westwood. This bitch is one lucky lady to be on my best dressed list twice! I love how this sequined gown is so structured, but the draping keeps it from being too severe. I also think that going with very minimal jewellery was a smart choice, and I love her hairstyle.
Number 1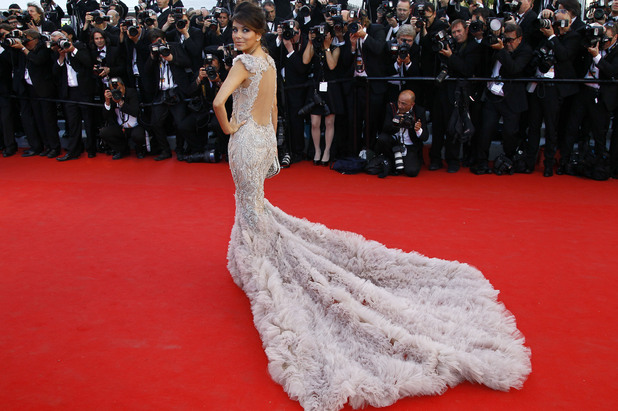 Eva Longoria in Alexander McQueen. This lady knows how to do red carpet properly! This dress is just stunning, and on many people it would be overwhelming, but here Ms. Longoria is clearly wearing the gown, not the other way around. Especially impressive considering she is only about 5 foot 2 inches, or so.Overall an A-plus. I want to wear this.
And now...the worst. Sorry gals, tough luck.
Worst Dressed:
Number 5
Jessica Chastain in Alexander McQueen. If you ever wondered how it is possible to end up on a worst dressed list wearing McQueen, here is your answer. The darts are terrible, they are accentuating her nipples in a very unflattering manner, the skirt is
wrinkled,
and the overall shape of the dress is frumpy. I feel like I want to add a belt to this dress, although that still wouldn't solve the wrinkle and nipple issues previously mentioned. Also, bad hair. I cannot believe that the same stylist who got her onto my best dressed list also caused this fashion catastrophe.
Number 4
Kate Upton in Louis Vuitton. Ew, this is just so, so bad. The poufy tiers remind me of a Disney princess-type gown, and not in a good way. It seems like she is being just totally swallowed up by the sheer size of this monstrosity, and maybe it would look a bit better if she was taller. Her hair makes me think of scary Texas beauty queens. I give this look a miss.
Number 3
Freida Pinto in Michael Angel. This is hideous. The "abstract" sequin design on the bodice just looks like a mess, somehow the belt manages to make her waist appear wider, and the giant fold of fabric right on her crotch area is a little too labia-like for my taste. Almost worst than her heinous dress are the prom shoes she thought were a good idea. She was wrong. Prom-type shoes are never a good idea; no matter how expensive they are they still look like prom shoes, which means they also look cheap. Just say no.
Number 2
Diane Kruger in Christian Dior. She is wearing a table cloth. Or perhaps your grandmother's couch. This is just so ugly. Why? Why would she want to wear this? I can't even say anything more...it's that bad.
Number 1
Jada Pinkett Smith in Paco Rabanne. Ahhhhh, this is so terrible! It's like some kind of Star Trek costume, but gone horribly wrong. The lacing up the front is super-trashy, not to mention that it's so low-cut that her ribs are in full view. And the pointy shoulders? Come on. Also, somehow I feel like her shoes are totally wrong with this dress. That being said I really don't have any recommendations for what type of shoes would be appropriate here. I think appropriate went out the window the minute that it was decided that this dress was fit to be worn in public.