Once a year the stars descend upon Canada for the Toronto Internation Film Festival. Though Toronto is hardly a fashion capital, the celebs brought their fashionable best to the Great White North. And as always, they also brought their unfashionable worst. There really wasn't much that wowed me in either a good or a bad way, so I only have two picks in each category.
The Best: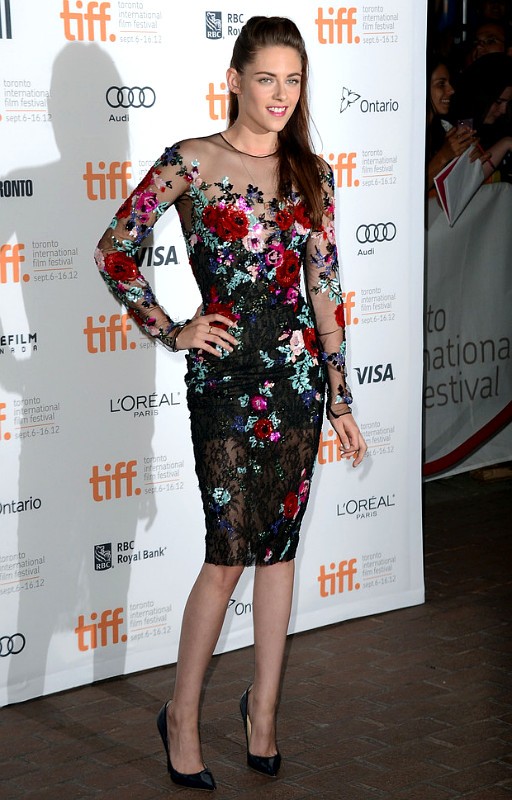 Kristen Stewart in Zuhair Murad. For once, she doesn't look completely miserable! Really, though, how could she not be happy wearing that dress? I appreciate how she kept her hair and shoes simple, and left off the jewellery. With a dress like this, over-styling would ruin the whole effect.
Penelope Cruz in Gianni Versace.
Oh, Penelope, how well you do a red carpet. This particular shade of pink could very easily go into Miss America territory, but on Penelope it looks super sophisticated.
Kate Hudson in Alexander McQueen.
This reminds me of the Tom Ford cape that Gwenyth Paltrow wore to the Oscars. I love the exaggerated shoulder and the little bit of sparkle on the chest. The slit is exactly the right height, so many stars take it too high, and then things get trampy. Kate is white hot!
Jennifer Lawrence in Christian Dior.
While I do like the print, I hate pretty much everything else. Jennifer Lawrence is so pretty, and this look totally drags her down. It's way too old for her, the hem is all wrong (it needs to be either longer or shorter), and the neckline is unflattering. And her hair! Ugh, she needs to go back to blonde.
Rachel McAdams in Elie Saab.
This dress is a pretty colour, but I hate the turtleneck, the one long sleeve and all the bunching fabric on the bodice. The dress is pulling over her hips, and really does nothing to flatter her body. ICK.