I have never been one for following every trend that emerges each season (flat brogues? No thanks.), but with the runway shows each season come a vast array of trends to choose from. There is always a trend to be found that can work for you. I would like to share with you some of the trends that I have been wearing this season, and I'm sure they can work for you too!
Leather
Leather is one
of my all-time favorite trends for fall/winter. Always rich-looking, real leather adds a luxurious element to your everyday style. Easily mixed with denim, leather is also a great way to add some edge to an office look. Try to find blazers with leather details or trim, or for a more bold look try an all-over leather skirt. Another approach to the leather look that we have seen this season is the coated or waxed denim. Rather than wearing an actual leather pant, you get the look but also the comfort of a stretch denim.
Some leather looks from the Yves Saint Laurent fall 2012 runway.
A leather skirt from Derek Lam.
A leather dress in bordeaux from 10 Cosby by Derek Lam. This is a refreshing change from the usual black leather that we see and I love the pleats.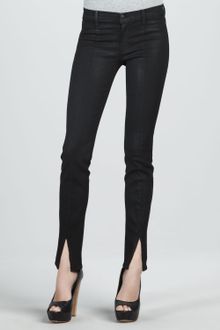 Coated jeans from J Brand. I love the little slits at the front!
Brocade
This trend makes me think of rich old ladies, which I love. Many designers brought to life the rich opulence of brocade on the runways. Seen on everything from dresses and skirts to shoes and bags, my favorite way to wear this is definitely on a jacket. It's the perfect way to really dress up your jeans, and I always like a little sparkle with my denim.
Balmain Fall 2012.
Jennifer Aniston in Dolce and Gabbana.
A gold brocade dress from Marchesa Fall 2012.
A gold and black brocade jacket by Dries Van Noten.
Pointy-toe Pump
The single-sole pointy-toe pump pairs perfectly with the new ankle-length pant. I especially love this silhouette done in rich, bright shades of suede and patent. The cap-toe style is a look we saw emerging strongly last spring and still works for fall and winter. A classic black patent pair is, of course, a perfect addition to any wardrobe.
Manolo Blahnik BB pump in fuchsia suede.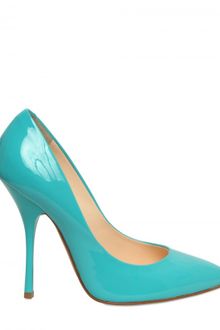 A bright pop of turquoise from Giuseppe Zanotti.
Leftl: Salvatore Ferragamo pump. Right: Yves Saint Laurent pump.