This year's Met Gala studied the influence of punk culture on couture fashion. Punk's anti-establishment sensibilities and high-fashion seem at first to be complete opposites, but ever since punk first came on the scene in the 1970s, both ready-to-wear and couture fashion has been influenced by punk on varying levels. According to the Metropolitan Museum's website, the exhibit will be "focusing on the relationship between the punk concept of 'do-it-yourself' and the couture concept of 'made-to-measure,' the exhibition will be organized around the materials, techniques, and embellishments associated with the anti-establishment style."
I am somewhat embarrassed to admit that I had a "punk" phase in high school. I say that I am embarrassed because I was not a real punk by any stretch of the imagination. Tatoos and body piercings have always grossed me out (when I was a fully grown adult I chickened out of a nose piercing), I've never dyed my hair a weird colour, or tried cutting it myself, and I generally find an all-black ensemble boring at best and depressing at worst. I did, however listen to The Ramones, The Clash and The Sex Pistols. As for my fashion during this time, I think the most punk thing I have ever owned is a gross polyester tank top in dark red that had "punk" spelled out in a variety of studs across the front of it. No, I will not be providing any photographic evidence of this phase. Sorry. Anyway, let's see how the ladies on the red carpet at the Met Gala fared. I hope they went more couture than chaos, but still with a slightly punkish edge!
Since there are too many amazing and terrifying looks to discuss I am changing up the format this time. Rather a best and worst five, I will just be listing a bunch of looks and discussing.
Taylor Swift in J. Mendel.
Punk looks good on her! I love that she is looking a little edgier than usual. I swear if I see her looking cutesy and girly one more time, he is banned from my blog forever. I love all the geometric cut-outs, and the embellished neckline.
Jennifer Lawrence in Christian Dior.
I have a feeling that this looks better in person. I love how she added some punk touches to a classic New Look silhouette. The red lipstick, spiked Brian Atwood shoes (they actually have flowers with spikes in them on the heels), leather belt and black veil add some much needed edge to this look. Go J.Law!
Anja Rubik in Anthony Vaccarello.
Ok, this biatch needs to find a new favorite designer. If you read my post on last year's Met Gala, you might recall that she wore the same designer and was on the worst dressed list. All I can think of when I look at this is Michael Jackson in his
Thriller
video. Just to be clear, that is not a compliment. Oops, I just threw up in my mouth a little.
Stella Tennant in Christopher Kane.
WTF??? She looks like a tranny, and not in a good way. Hairy beast is happening on the top, and a severe case of camel toe is happening on the bottom. She's a freaking model, for goodness sake can't she find someone to lend her nice clothes? Or at the very least something from a women's collection?
Aha, so he can design something good! Who knew? I freaking love her shoes too! They are Stella Luna for Anthony Vaccarello. I like how she added some punk to her look with the hardware on her dress and the giant spikes on her shoes. The soft hair is a perfect contrast to a more edgy outfit.
Blake Lively in Gucci Premiere.
No fairsies! Since she is the current face of Gucci's latest scent she gets all the Gucci she could ever want...This gown is so beautiful, and I love the slightly shredded quality of the skirt, it adds that punk touch. I am glad that she kept her hair up and simple so as not to compete with the dress. The only think that bugs me a little bit is that her boobs look slightly smashed.
Linda Evangelista in Marchesa.
Holy, evil stepmother! I never thought that I would see her looking her age, let alone this much older! This is one of the most beautiful supermodels ever, and she looks like one of Henry VIII's wives, except at least they wore corsets to give them some shape. I would definitely chop off her head for wearing this. Also, I am surprised that Marchesa would make something so totally unflattering.
Sienna Miller in Burberry Prorsum with an Eddie Borgo tiara.
Now, this is punk. And I kinda love it. She looks like she is wearing a really well-cut nightie and threw on her studded biker jacket over top. Totally perfect for the event.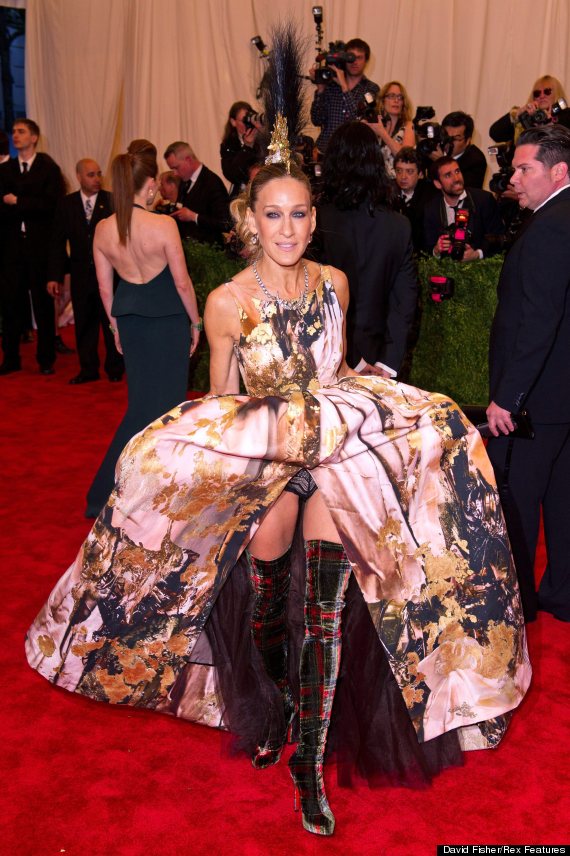 Sarah Jessica Parker in Giles with Christian Louboutin boots and a Philip Treacy headpiece.
Ok, I am going to say it: You are not Carrie Bradshaw in real life! And also: you are old, please put your panties away. So, yes the tartan boots are punk, but they are also ugly. Good for her for trying to fit in with the punk theme, but this is ridiculous. Oh, and did she steal her hat from a Roman gladiator?
Katie Holmes in Calvin Klein Collection.
I love the simplicity of this gown and the ethereal feel it has. I would have liked if she had added a bracelet, though. Otherwise, it is perfection.
Gwenyth Paltrow in Valentino.
I love the colour but everything else is just weird. The random stripe of skin just ruins everything. If it didn't have that, and she added a badass necklace, this would be awesome.
Constance Jablonski in Wes Gordon.
Nope, I've never heard of her or the designer. Probably best that way. First of all, she should not be smiling in that outfit. If you are going to try and pull off a leather bondage corset/choker dont accessorize it with a sunny smile, it defeats the whole purpose and is so NOT punk. The wrinkly gold mess underneath looks like what happens to old people when they move to Florida, and trust me, that is nothing to smile about.
Beyonce in Givenchy Haute Couture.
This is one hot mess, which is sad because she started out with a pretty fierce gown. The train is stunning. The long gloves are terrible; I'm pretty sure prom queens don't even wear those anymore. The only person who has any right to be wearing gloves like that is Jessica Rabbit. The belt is way too much with this dress that already has a lot going on, but the worst part is those heinous boots! They are the ugliest boots I have seen in a long time. Bleeeech. I also don't love this neckline, it's not very flattering on her. Take away the boots, the gloves and the belt and this would be pretty amazing. Shame on you, Beyonce for ruining something so gorgeous.
Madonna in Givenchy Haute Couture and Casadei ankle-strap pumps.
So, this is definitely chaos, rather than couture despite the fact that it is, technically, couture. I would expect nothing less of Madonna, but maybe she could try shocking us like she used to back in the ninties, and I don't know, wear PANTS! I do love her shoes, though, but they really don't go with the rest of her outfit.
Cameron Diaz in Stella McCartney.
I love, love, love this! It reminds me a bit of the Tom Ford caped ensemble that Gwenyth Paltrow wore to the Oscars last year. The spiky belts adds the perfect touch of punk, and she just looks so elegant and cool at the same time. However, the tightly slicked back hair is doing her no favours, especially paired with such a severe dress. Also, she really needs to cool it with the Botox.
Mary-Kate Olsen (left) in a vintage Chanel gown a vintage Balmain jacket and Ashley Olsen (right) in a vintage Christian Dior Haute Couture gown.
Well, I didn't really expect anything better from these two, but they look like idiots. It's like they are only wearing it because it's rare vintage and they didn't notice how extremely unflattering it is. There is really nothing more to say.
Nicole Richie in Topshop Unique.
If you are famous amazing designers will lend you gowns, so please don't wear crap from Topshop. The dress is so-so, but the HAIR!!! WTF?!?! Is that her interpretation of punk? It's just way too creepy.
Very Morticia Addams, and not in a good way. Too sheer, too many cutouts, her hair totally doesn't go with the gown, and just yuuuuuck. Plus, it's too long, the train comes around to the front, and looks a mess.
After all that, I feel as though I must crown a winner. Aaaaaaaannnnnnd....its a tie! Gisele and Blake take the cake! Good job ladies.