Greeting, followers! Ha. Just be glad I didn't say minions. I am going to a cabin on a lake this summer for about a week. I have gone to a different cabin on a different lake the last two summers (thank you James Michell), but this one I'm going to this year is actually in a little town and I will be there for longer, so I feel like more outfit planning is in order. At James's cabin all I wore was shorts, a swimsuit, flip flops and a little sundress, since the one and only pub in the town shut down (it's a Hell's Angels front, but that's another story), and we literally only left his cabin to go to a food truck. This year I plan on expanding my cabin-clothing repertoire.
.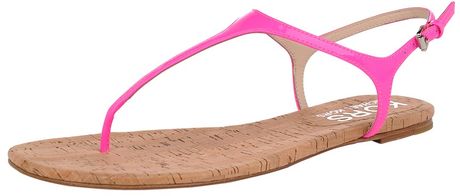 Kors Michael Kors patent leather and cork sandal.
This is perfect for if you want to be slightly more polished than a flip flop, or if you are going to be doing a bit more walking than is comfortable in flip flops. Not recommended for hiking though! I love the neon pink colour combined with the natural cork. They would look amazing with a navy skirt or shorts.
I really feel like boat shoes and cabins go hand in hand, since often people who have cabins are rich so they will also have a boat. Or, preferably, a yacht. Both of these pairs are Sperry Top Siders, the original boat shoes from Massachusetts. I love the pink patent combined with plaid, and the gold is a great neutral. I have an old pair of gold boat shoes and I even wore them on my dad's yacht (side note: my dad is Mr. Sailboat, and yet he hates these type of shoes. Maybe it's because he is a West Coat sailor, and these shoes are more East Coast) but they are Michael Kors, and I feel like I should have a pair of real boat shoes. The cool thing about Sperry is that in more recent years they have started focusing on the fashion aspect of their brand, but have remained true to their roots as a boating shoe company. All of the shoes still have proper no-slip rubber soles in white rubber so they don't leave marks on your pristine deck.
Since I have a terrible addiction to buying swimsuits (a totally impractical addiction for someone who lives in Canada), I feel the need to buy at least one new one every year. This year I really want a fringe one. The one above is from Luli Fama. L*Space does some cool fringe ones also, if you have some extra money to burn.
This minty turquoise number might have to be mine...This one is by Vitamin A Silver Swimwear.
This dress is from the H&M Conscious Collection. A maxidress is a summertime must have, and is a perfect piece to bring on a trip, since you just throw it on and you don't have to worry about mixing tops and bottoms. Now, some might say that this is too dressy for a cabin, but I say it is always preferable to be overdressed than underdressed. Besides, paired with some flat sandals or wedges, it would be perfect for a BBQ, or a dinner out on a patio if your cabin is near a restaurant.
Shorts are a must at a cabin. I love these pink ones from J.Crew and they are currently available in a whole rainbow of shades. Denim shorts are a great option too, but these chino ones can be dressed up more easily. The Gap is another great place to find cute (and cheap) shorts.
If you are going to be hanging out in the sun a hat is a must to prevent a scalp sunburn (I got one last year, and it is horrible). A hat is also great for hiding hideous ocean or lake hair. Double duty, I love it! A casual fedora is perfect for a cabin. The one above is from Zara, similar styles are available online and in store.
If you want something a little more glam (and also something that provides a little more sun protection), try a wide-brimmed sun hat. I know that this outfit is hardly cabin-appropriate, but maybe some of you readers have mansions in the Hamptons instead of cabins! And also, I just absolutely love this outfit. You could definitely take this hat and pair it with something more casual if your cabin is a little more low-key.
Hat: Zara
Jumpsuit: Sportmax
Shoes: YSL
Clutch: Bottega Veneta
Oh, look at that! The hat is the only part of this outfit that I can afford.
A jean jacket is the perfect topper for when you are at a cabin. It goes with anything (although, I have to say that I am still not on board with the whole denim-on-denim trend, so I will not be pairing my jean jacket with jeans. There is a reason this look is referred to as the Canadian Tuxedo, in a non-complimentary way. That reason is because when you wear denim on denim, you look like a logger). A jean jacket looks great with coloured denim, or white denim, or black denim, and any other non-denim item. Over a sundress or a maxidress. With the pink shorts I showed above...so many options! The one pictured here is from Levi's, the classic choice when it comes to denim.
Throw all this, plus some jeans, a hoodie (for cooler nights), a beach bag (I like straw or raffia ones), maybe some bangles, and of course, some fab sunnies into your suitcase, and hit the cabin!