Awards season is upon us! The first really fancy Hollywood awards show of the year is the Golden Globes. As a movie star, if you are smart, you would save your very best dress for the Oscars, but there were still some amazing gowns on the red carpet at the Globes this year. And, as always, there were some major misses. Let me know who was your best and worst!
Best
# 5. Jessica Alba in Oscar de la Renta.
This gorgeous coral shade is one of my favorite colours, and it looks great on Jessica. She perfectly accessorized with a beautiful $5.8 million Harry Winston necklace and a fluffy feather clutch. I love her Veronica Lake hairstyle, too!
#4. Jennifer Lopez in Zuhair Murad.
Ahh, J. Lo. She nails the red carpet every time. The lace on this dress is gorgeous, and the nude underlay creates a stunning illusion. Simply stunning.
#3. Julianne Moore in Tom Ford. How can you go wrong with Tom Ford? I think he loves women more than most straight men do! I am loving the black and white combination. This is the perfect example of how to look fresh and modern without trying too hard to look young.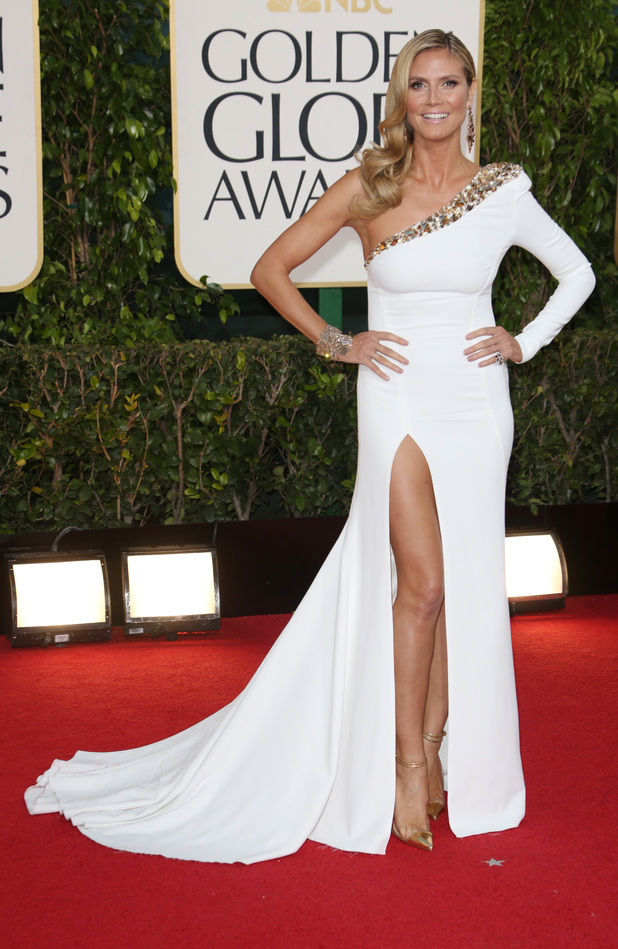 #2. Heidi Klum in Alexandre Vauthier.
I am really loving white dresses lately, especially more severely tailored ones. I love the crystal detailing on the neckline, the one long sleeve, and the slit. And she picked the perfect shoes! Why does Heidi get to go to these events? I should be invited then too! She's no more of an actress than I am.
#1. Kate Hudson in Alexander McQueen. This is stunning. I would do some very despicable things to get my hands on this dress. The black and gold is a gorgeous combination, and the deep cutout works here because Kate's girls are on the smaller side. I love the detailing at the neck, too.
Worst
#5. Rachael Weitz in Louis Vuitton.
BARF. Ew, this is terrible. It looks like she went to Sirens, bought a trampy little strapless satin dress, and then hot glue-gunned some Swiss dot fabric to the top and bottom. It just looks like a hot mess, and I hate the bow.
#4. Julia Louis Dreyfus in Vera Wang.
Basically, this is a prom dress made up in the most depressing print possible. It looks like dead flowers. I hate the tulle overlay, it makes me think of Prom 1997. Her hair also looks brutal.
#3. Sienna Miller in Erdem.
This is just brutal. The flowers look like a kindergarten craft project. The colours wash her out, the cut is unflattering, and her hair is boring. Overall, a giant miss.
#2. Lena Dunham in Zac Posen.
This is just not at all flattering, where is her waist? I hate the colour, all I can think of is that she reminds me of a big poo. And where are her accessories? Would no one lend her any jewels? So sad.
#1. Halle Berry in Versace.
Aggghhhh, this looks like something one of the Real Housewives of Miami would wear, and the is NOT a compliment. The print is too casual for the Golden Globes and the shoes are all wrong with this dress. The slit comes up too high and the cutout on her hip is overkill (we know you have a good body, Halle!). Epic fail. She needs to start channeling J. Lo.