Bloggers have been going nuts recently posting Duchess Catherine's outfits from the Royal Tour of Australia and New Zealand almsot as quickly as she can change them. The only thing competing for attention with Kate's fashion choices are Prince George's chubby cheeks. In general I find the Duchess's style to be be classic and chic, but pretty boring and conservative, which I suppose comes with the job (or is the Queen's orders). While she has whipped out the same tired shoes that we have been seeing her in for the past 3 years, Catherine has impressed me a couple of times. Below are my 3 favorite outfits from the Royal Tour.
Here she is in a Catherine Walker coat, stepping off a plane in New Zealand with baby George in tow. I love all her matching hats, and this pill box one is very Jackie Kennedy of her.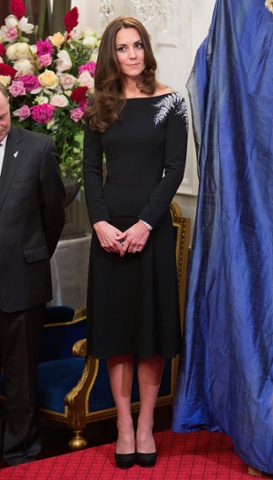 A simple yet effective Jenny Packham dress embelished with a fern, a symbol of New Zealand.
Here she is attending an Easter serice at a church in Australia. This look is my favorite. Obviously, since it's Alexander McQueen. I need to start wearing fancy hats like this. If people in Canada wore hats like this to church, it sure would make church a lot more appealing to me!