The year's biggest red carpet was a bit of a let down for me. While Sunday night's Oscar red carpet did showcase some beautiful gowns, there really wasn't anything that blew me away. Also a disappointment to me was the lack of truly heinous ensembles, which usually provides some comic relief. Overall, I felt like things were a little boring this year. However, there were still some definite standouts, which I have rounded up here for you.
Rosamund Pike in Givenchy
This is gorgeous. I love the intricately detailed fabric and the structured cut of this gown. The scalloped neckline makes me really like the strapless style, which isn't usually my favorite. The matching shoe really keeps everything elegantly formal, and all in all I think this is flawless. This would have to be my top pick of the night.
Cate Blanchett in Maison Margiela and Tiffany necklace
While I wouldn't claim that this is her best look ever, Cate the Great never fails to look effortlessly beautiful. The clean, simple lines of this dress are the perfect backdrop to show off the stunning Tiffany necklace to it's best advantage. Keep it up, Cate.
Reese Witherspoon in Tom Ford
I love the simple elegance of this gown. The fit is impecable, which is everything, especially in an unforgiving colour like white. I really like the off-the-shoulder style and the graphic black and white combination. The only thing I don't love is her hair. I don't think a middle part and ear tuck is her best look.
Gwenyth Paltrow in Ralph and Russo Couture
This is one of my favorite looks from the night. I love Gwenyth in pale pink and I really like modern feel of this gown. The structured and sharply tailored shape of the dress is juxtaposed in an unexpected way with the oversized rosette detail on the shoulder. I actually don't think I have ever seen anything like this before, and it was a welcome breath of fresh air; it made me think of spring being just around the corner.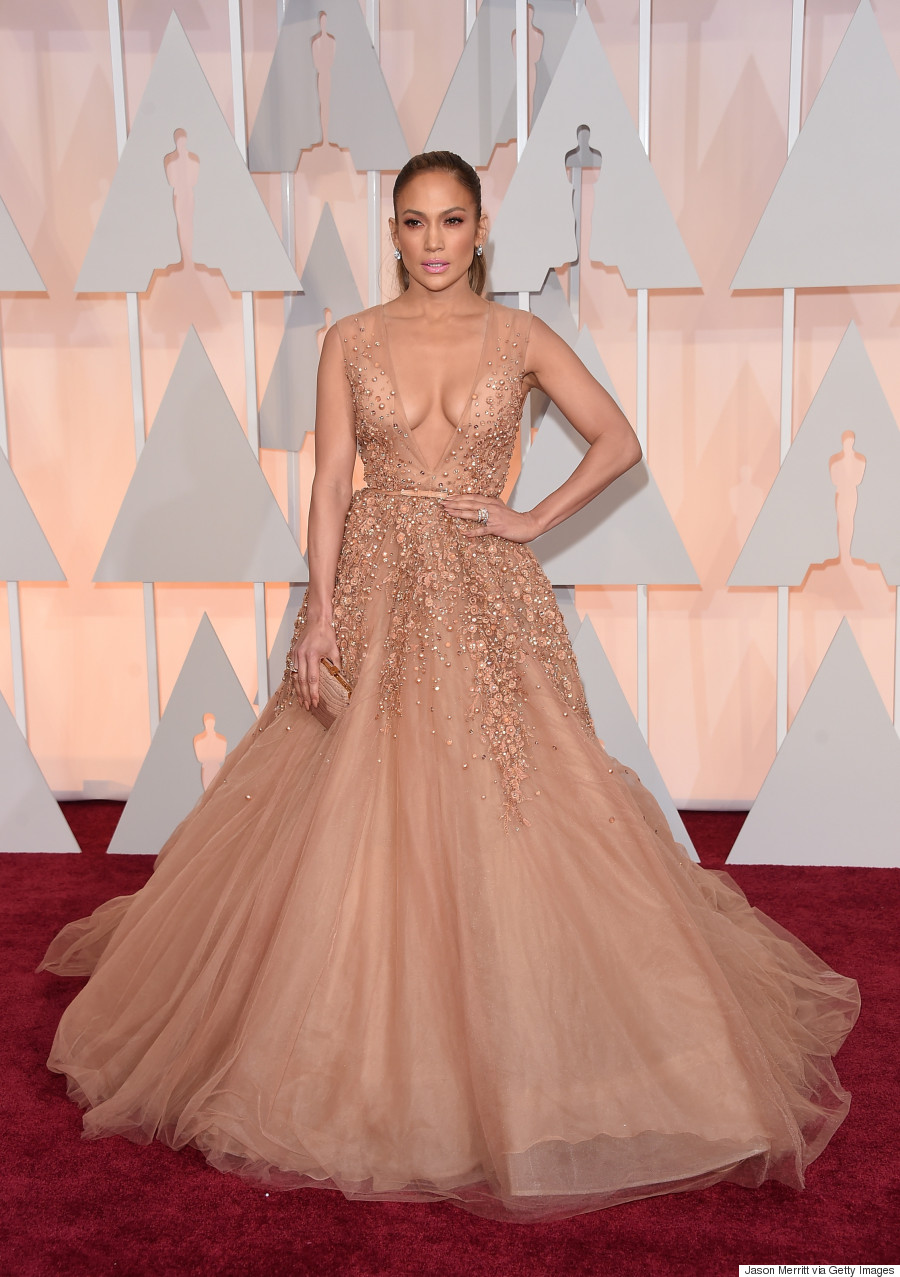 Jennifer Lopez in Elie Saab
I have to commend J. Lo for always going all way. She would never wear anything that underwhelms on a red carpet. In theory this is a gorgeous gown. However, her trashy level of cleavage really doesn't go with the feel of this ethereal princess gown. I also wish that the gown was slightly paler (or that her spray tan was slightly darker), which I think would look more flattering.
Emma Stone in Elie Saab
This girl is on point. This is a tricky colour to wear, but it really does work on porcelain-skinned beauties. I think more people should wear this shade. I love all the intricately beaded detail and the hem is my favorite part, appearing as though leaves are trailing behing her. On a side note, I am kind of into matching your shoes to your gown.
Scarlett Johansson in Atelier Versace
This looks like some sort of Poison Ivy costume. On it's own there is nothing wrong with the dress, the colour is stunning on her, but the necklace looks all kinds of wrong. The two shades of green don't quite match, and the negative space between the necklace and the dress looks really awkward. This is an amazing necklace and it could look fantastic on a different gown. I can imagine this necklace looking beautiful against a high-necked white gown with long sleeves. I also hate this hairstyle, I find no reason why anyone would think this is flattering.
Meryl Streep in Lanvin
So effortless and on point, obviously. It's Meryl Streep, I think that pretty much says everything that needs to be said.
Lady Gaga in Alaia
I really think that this is a stunning gown, and perfect for the Oscars. That being said, I am baffled by these gloves. When Lady Gaga does her weird thing it's usally weird, yet cool. There is nothing cool about these gloves. It looks like she is going to clean the toilets, or like she got them as part of a children's cowboy costume. It makes me a bit sad that such a gorgeous gown would be blighted by these heinous gloves. She did manage to make up for it somewhat with her amazing performance of songs from
The Sound of Music
and her surprise introduction of the incomparable Julie Andrews.
Julianne Moore in Chanel Couture
This is a beautiful gown, but I think that it could have been more flattering. The bodice is gorgeous and I love the neckline, but I can't understand why the detailed band would have been put around her hips. It looks odd and unflattering, and really distracts from the stunning detail and intricacy of the beading and sequins on this gown. Overall, she does look beautiful though.
Dakota Johnson in Versace
This is a really beautiful gown but I think it was a little underwhelming for the Academy Awards. I love the asymmetical neckline and the shoulder detail, but I feel extremely let down by her hair. It looks like she just finished a sweaty run. A ponytail can be really polished and beautiful, but this looks pretty messy.