This years Costume Institute Gala at the Metropolitan Museum of Art looked to the Far East for the theme. China: Through the Looking Glass is this years exhibit, showcasing the stunning fashions of China and the far-reaching influences of Chinese design and culture on fashion around the globe. Unfortunately, the red carpet fashionn was overshadowed by a plethora of naked dresses. It's nothing new, we've all seen Beyonce, Jennifer Lopez and Kim Kardashian mostly naked before. There were a few standouts though.
Beyonce in Givenchy Haute Couture
She looks like she is heading to an audition for I Dream of Slutty Genie. This is so desperate and trashy, she really doesn't need to be wearing this type of gown (if we can call it a gown). I mean, she's
Beyonce,
she doesn't need to try so hard. That being said, the floral bejewelled applique is so beautiful and intricate, and if the bodice was covered with this finishing, and only the skirt and sleeves were sheer, I really think that I would have loved it. Instead, she just ended up looking
tacky and hoochie. If she really feels the need to wear this type of thing, she should wear it on stage.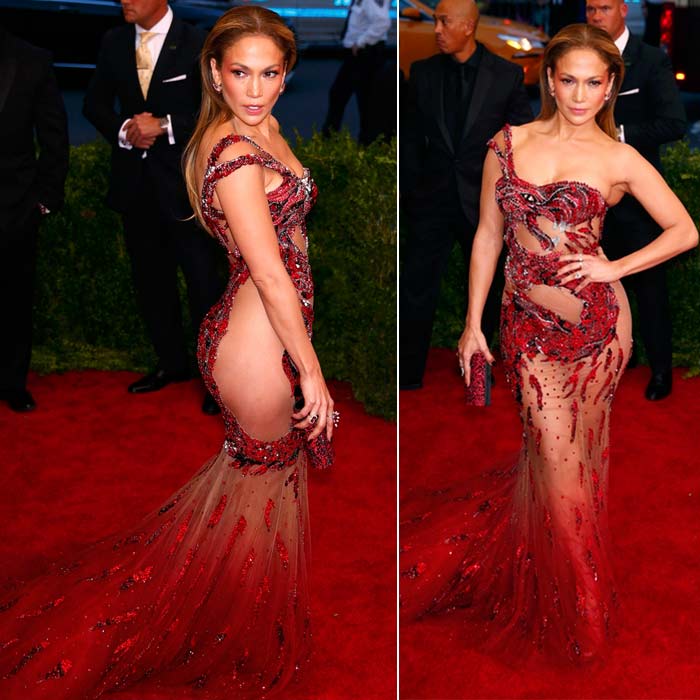 Jennifer Lopez in Versace
This is so so bad. Again, just so desperate! She is arguably the hottest woman at the whole Met Gala, and she makes most women half her age look like trolls, so she has nothing to prove. I suppose now that Kim Kardashian has such a famous ass, J. Lo needed to remind us all that she has the original famous ass. And also show it to us. So unnecessary. I do like that she took the theme into account, though and there is actually a dragon wrapped around her torso.
Amanda Seyfried in Givenchy Haute Couture
I love this look. Normally, I am not a big fan of the unfortunately named "mullet dress" (also known as the high-low dress), but here I love it. The white lace dress is a must-have trend for spring and if you're going to do it, do it right. I love the lace applique with the high halter neck, it's an unexpected combination that I really think works. The hair and makeup are perfect finishing touches for this gown.
Keri Russell in Joseph Altuzarra
I think that this might be my favorite look of the night. The workmanship in this gown made entirely of feathers is just incredible. The metallic green sheen is stunning, and the belted waist is perfect. This actually reminds me of Alexander McQueen's work, which I obviously love.
Kim Kardashian in Roberto Cavalli
Why does this need to be sheer? Just like Beyonce and J. Lo's gowns the workmanship and shape of this is amazing. There are two glaring problems though. The first is the fact that it's completely see through and the second is that this is made for a supermodel body, and is just so unflattering on Kim. The saddest part about this whole sheer extravaganza is that clearly all of them are trying to stand out and be daringly different, which truly falls flat when there are a bunch of other ladies wearing almost the same thing (and in Kim's case, wearing it better than you).
Gigi Hadid in Diane von Furstenburg
A good red dress can be great, but a bad red dress can be a horror show. Luckily, this is a good one. I love the intricate bodice and how it splits in a V at the bottom. As I've mentioned in previous posts, I am really loving the coordinating shoes, and these shoes are particularly fierce. I love that she chose to wear DVF who has long been a strong and vocal advocate for American designers and the American fashion industry.
Kendall Jenner in Calvin Klein
While this look does feature a bit more side boob than I normally appreciate, overall this is an amazing gown. The emerald green shade is a favorite of mine and very flattering on Kendall. I think what I love the most about this gown though, is that from afar is appears to be a fairly simple sheath dress with a beautiful finish, but I included a close up shot to show that it is an intricately woven web of crystals and bugle beads in varying shades of green. The full effect is truly incredible, and an excellent representation of the Calvin Klein aesthetic: seemingly simple styles that upon further investigation reveal stunning quality and workmanship.
Rihanna in Guo Pei
The Cowardly Lion wants his look back! I do actually kind of love this, and I also love that she chose to wear an actual Chinese designer, not a designer who just took all their ideas from the Chinese. I also have to applaude Rihanna for making the effort to wear such an enormous ensemble, it must have weighed a tonne!
Sarah Jessica Parker in H&M and Philip Treacy headpiece
I wanted to finish things on an uplifting note...so uplifting in fact that you might see this and mistakenly think that you are high. Or she is. Call me crazy, but the, um "hat" isn't the part that I find the worst. I actually love/hate it. I love it for how insane it is, and she somehow manages to wear this outfit with a serious expression on her face, and not a hint of embarrassment. The dress on the other hand is hideous. Why on earth would you choose to wear H&M when you could choose any couture designer in the world? All together this ensemble will not be forgotten soon, and will bring entertainment to all that see it.
This is the very best though.