If you live in Calgary you know that every July our fair city goes country for 10 days. Whether you love it or hate it, the Stampede is almost upon us. Personally, I choose to use the The Greatest Outdoor Show on Earth as an excuse to dress up like a country cowgirl. If you like to get into the Stampede spirit and you live here, it is definitely worth it to get yourself some cowgirl boots and a hat. That being said there is really no reason why the rest of your cowgirl emsemble can't be put together with pieces that you will wear again. My friend Amber (check her out at
www.amberapproved.ca
) asked me help her pick out an outfit for the Stampede Breakfast that she is hosting. Amber told me that when she first moved to Calgary from a small town she was totally not into anything to do with Stampede style, but she has since come around. Now is an ideal time to pick up some pieces that you can wear for Stampede and beyond, because the boho seventies vibe is so trendy right now. For Amber, we went with a gorgeous white lace maxi dress topped off with a faded denim vest and turquoise jewellery. I am trying to convince her to add a cowboy hat. I will post some pictures after her Stampede Breakfast! Below is a list of some ideas of items you may already have in your wardrobe or things you could purchase and wear again.
Anything with Fringe
Since the seventies are so trendy this spring, fringe is something that is easy to find in stores right now, and you will also look fab wearing it well past those 10 days in July.
This crocheted top with fringe from Urban Outfitters looks really cute and not at all western paired here with black shorts. If you want to really go seventies post-stampede, wear it with high-waist flared jeans. It could also work dressed up with a skirt. For Stampede just add blue denim and a cowboy hat!
I just love this suede fringed wrap skirt! The model has paired it with some western-inspired stiletto booties with would work perfectly for Stampede. I actually just bought a dark brown suede fringed skirt, and I plan to wear it in the fall with lace-up ankle booties. The one above is from ASOS.
Suede really is the material of choice for spring 2015, and this fringed bag from Saint Laurent is not only totally on trend, but goes with any Stampede outfit.
Boho Dresses
A boho dress, short or long, with the right accessories makes a perfect transition from you go-to summer wardrobe to Stampede style.
This dress from Free People paired with light brown fringed booties could work perfectly for Stampede. Just throw a crocheted fringe vest, or a denim vest over it, and you're rodeo ready!
A maxi dress in the right flowy shape works well, too. Accessorize the same way you would a short one.
Denim All Over
Head to toe denim has been a trend we've seen for a while now, and it's a no brainer that this will work for Stampede.
This denim off-the-shoulder dress from Zara is so cute, and as you can see, this blogger above has styled hers with 100% no western vibes. Add a big cowboy belt, boots and a hat, and you've got your Stampede style in the bag!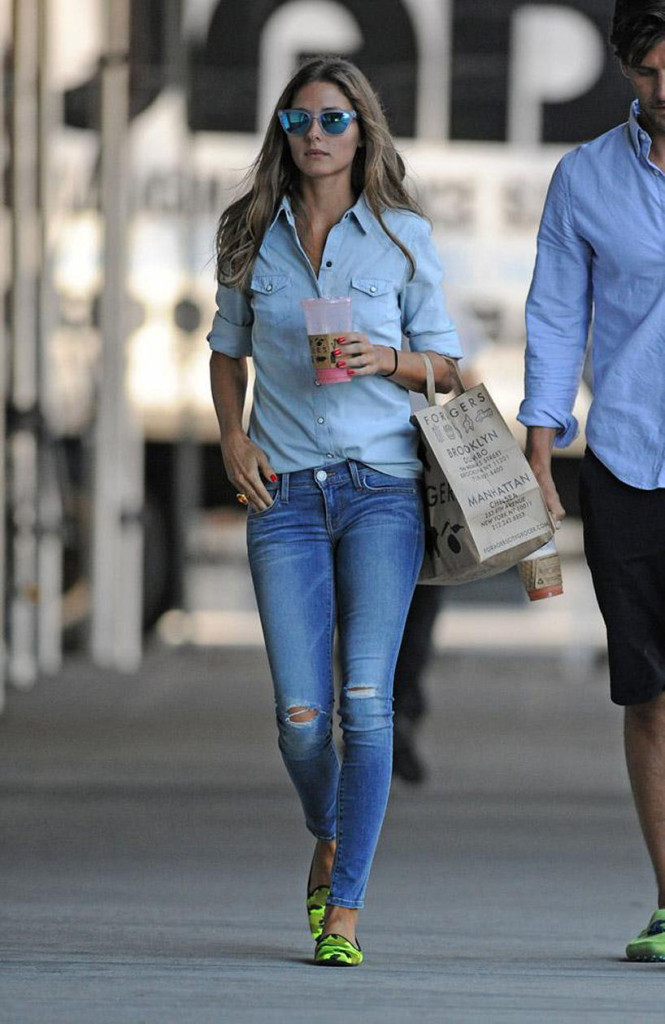 Just add the accessories: hat, boots, belt! And you could throw in some turquoise gems as well.
This seventies-inspired denim mini skirt looks great styled as above, but could also be paired with a denim shirt for a full-on blue jeans cowgirl look.
With all this in mind, now you can spend your money on things you will actually wear again, rather than getting yourself a pair of hideously stiff Wranglers and a plaid shirt that you only pull out during Stampede. Giddy up!