Ahhh...the Golden Globes, the one night when everyone knows the awards are bought, but no one will say it. Until now: thank you Ricky Gervais. The legitimacy of the actual awards aside, the fashion is still great...or greatly terrible. Here are some of the most notable looks of the evening.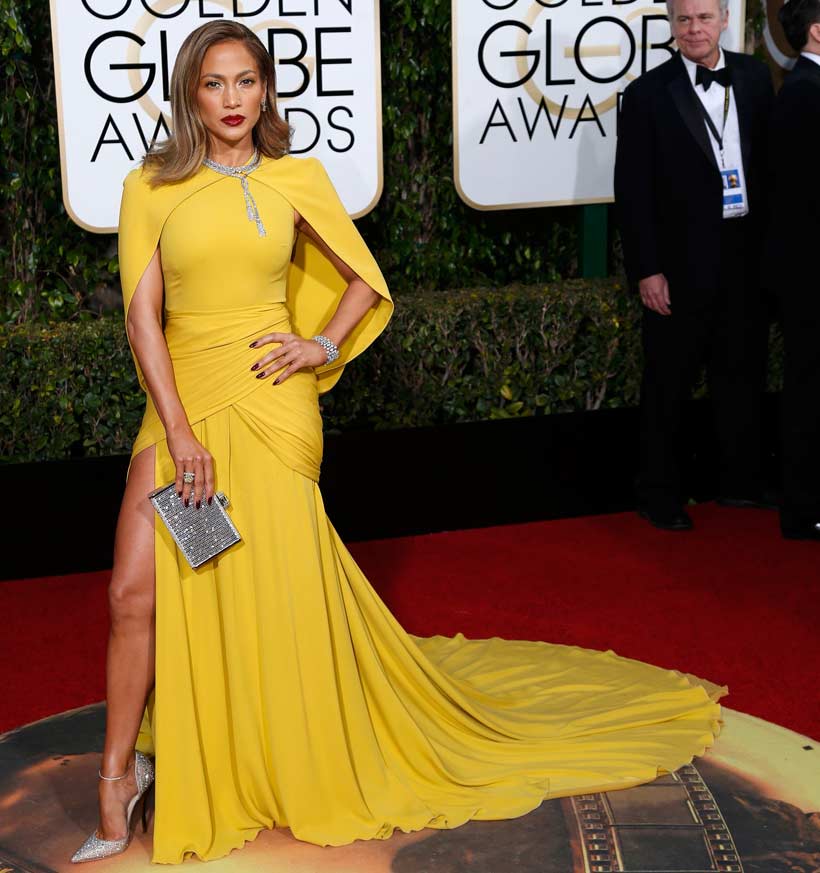 Jennifer Lopez in Giambattista Valli
This is one of my favorite looks of the evening. This particular shade of mustard is quite tricky to pull off, but J.Lo slays, as usual. I love the little cape and the necklace is killing me it's so good. What I love the most though, is that this is somewhat of a different look for J.Lo. She stuck with her favorite red carpet designer, but this is quite a departure from the usual beaded, plunging, sheer, smokey eyed, nude lipped, massive hair situation that we are used to seeing her in. Not that I don't love that J.Lo, but this is a breath of fresh air.
Kate Hudson in Michael Kors
I was so disappointed when I first saw this, since I usually just love what Kate wears. This is a bit too much on the trashy side. I would have preferred it if this dress just had cutouts, rather than a Britney Spears-style tube top. I do love the colour and the hair and makeup is on point, but the massive strip of midriff (great abs, by the way) and the hideous choker situation is a big fail.
Julianne Moore in Tom Ford
Having Tom Ford as one of your besties would be a real asset when it comes time to turn yourself into a total glamazon for the red carpet. Julianne Moore is just killing it in midnight blue. This is how you work a weird choker thing! What I love about her is that she always goes high-fashion and takes a bit of a risk with her edginess, and she ALWAYS hits the mark.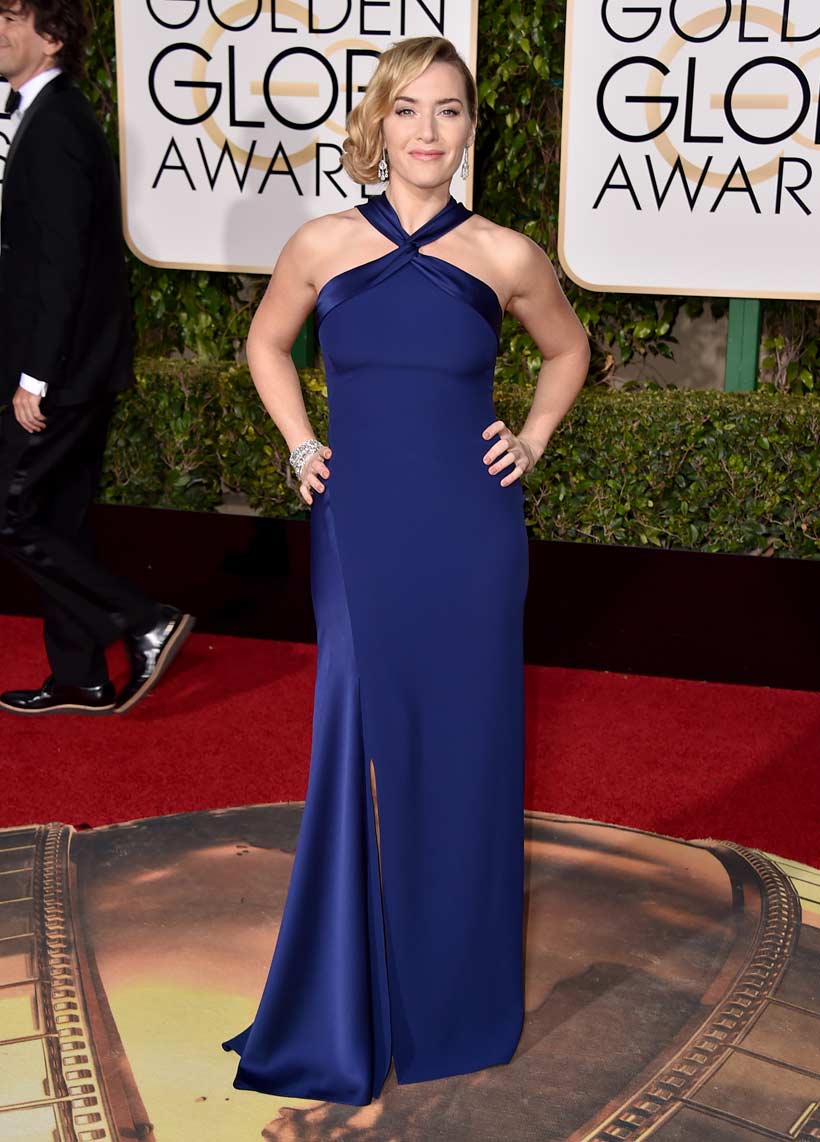 Kate Winslet in Ralph Lauren
While there is nothing terrible about this, there is certainly nothing great about it either. It's giving me a bit of a bridesmaid vibe. The fit is perfect, and her bod looks great, but this is truly putting me to sleep. Kate, we know you can do so much better. Please bring it to the Oscars.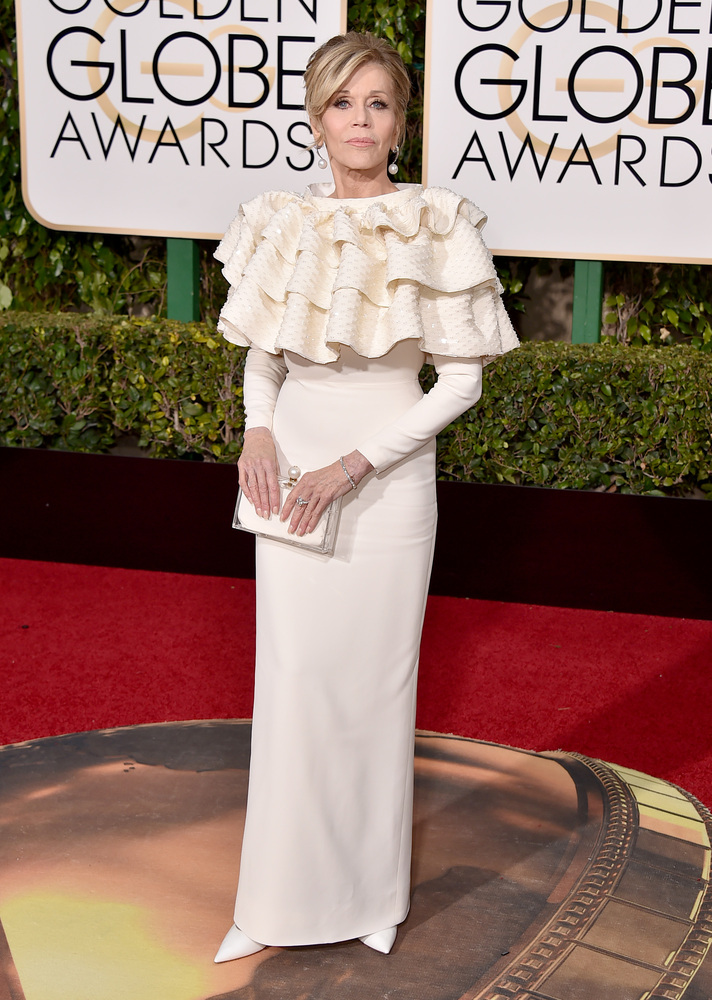 Jane Fonda in Yves Saint Laurent
As someone who is known for bringing some serious heat to the red carpet and giving girls four decades younger than her a run for their money, this would be a huge disappointment if it wasn't also pretty hilarious., She looks like a clown or a pilgrim and the internet has named her Jane Fondant.
Amy Adams in Atelier Versace
I love this one! She shows that you can be a redhead and wear red. I love the waist accent that carries all the way down to the hem of the gown creating an elongating effect. I would have preferred her hair to be swept to one shoulder to showcase some statement earrings. Other than that I love it.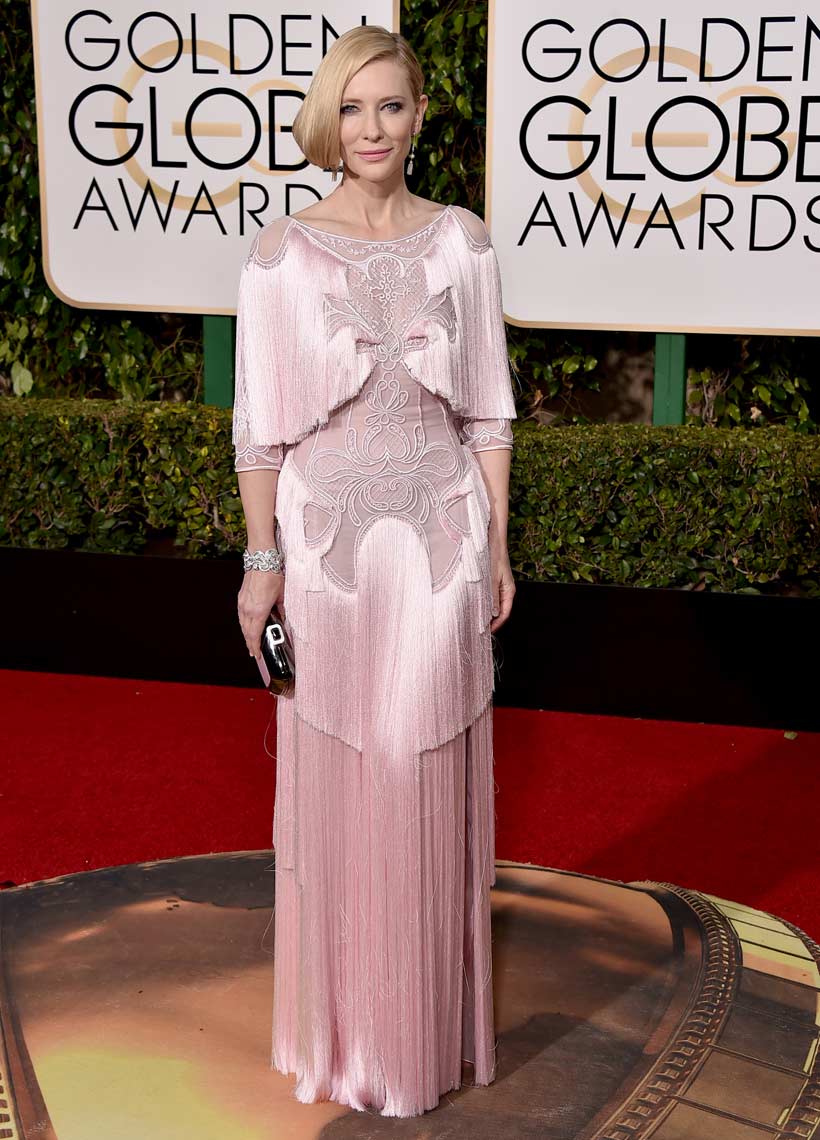 Cate Blanchett in Givenchy
This gown is a piece of art. Standing still, it might not be to everyone's taste, but seeing it move with the layers of individually hand sewn fringe swaying you have to at least appreciate an incredible piece of haute couture, even if you don't particularly care for it. I actually love it, and the fact that she always wears these meticulously crafted works of wearable art are one of the reasons I just love Ms. Blanchett. The delicate pink colour works perfectly here, bringing a little femininity to something so avant garde. Not everyone can pull this off (most in fact, cannot) so I applaud her for taking a risk and making it work, every single time.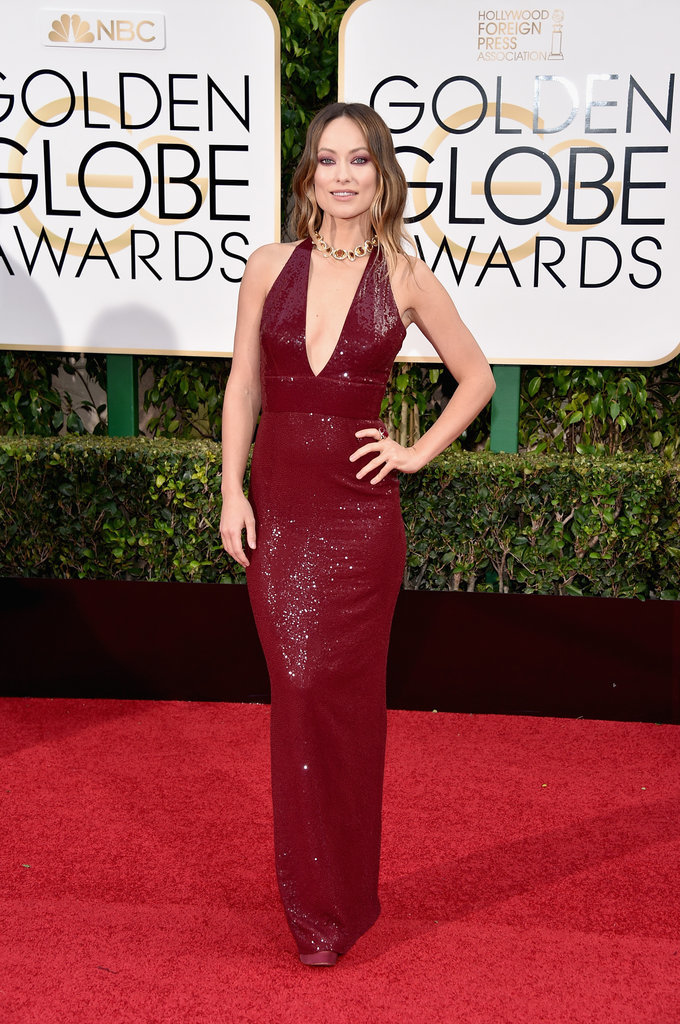 Olivia Wilde in Michael Kors
I love a good seventies throwback, and this one is no exception. I love the burgundy sequins, which is a bit unexpected. At first I didn't like the necklace, but looking at it the second time around, it has definitely grown on me. The only thing I don't like is the matching burgundy eye shadow. I have yet to see anyone look good in red eye makeup.
Bryce Dallas Howard in Jenny Packham
This poor girl! She is so young and pretty, and it looks like she borrowed her grandmother's dress. The colour is beautiful on her (we saw how Julianne Moore worked it), but a three quarter sleeve tends to be quite aging. Add to that the mixture of lace and brocade, and an extremely boring hairstyle, and what you get is a big sad yawn.
Heidi Klum in Marchesa
Sometimes fringe plus feathers equals a big hairy mess. Considering she is a supermodel and has had a long standing job on a show about fashion designers, you would think she would have picked up a style clue or two. Alas, Ms. Klum continues to be red carpet disaster time and time again. The Golden Globes were no exception.
Rosie Huntington-Whiteley in Atelier Versace
This is golden goddess perfection. There really isn't much else to say. It does make me feel a little bad for the actresses who are under so much pressure to not only look amazing and but then also take home an award at the end of the night, to have to share the carpet with a stunning supermodel who looks like absolute perfection and also like she didn't even try, and she's only there for the party.
Jennifer Lawrence in Dior
I know this look is topping a lot of best dressed lists, but I didn't love it. I definitely like the dress, but I don't think it's really anything too special, and the hair I hate. It's so blonde that it almost looks grey, and the updo is really boring. The overall combination with the choker is extremely aging. Be young while you can! You have plenty of years to dress like a clown, just ask Jane Fonda.