This past Sunday was TV's biggest night. Which means it's the night when all the lesser-known stars come out in their red carpet finest. There were definitely some hits, although nothing really to die for. As for those who missed the mark, they REALLY missed it, which means that you definitely don't want to miss it! Read on.
The Best:
Calvin Klein truly is the king of minimalism. The cut of this is so perfect, and I love the sliver of midriff she is flashing (no belly buttons!). I like that she softened the severe dress with her loose curls.


4. Maria Menounos in Zac Posen.
I am extremely into statement necklaces lately, and I love this one. This fit of this gown is perfection, and I like the details around the neckline. I am really loving her braid, but I wish her hair had a little less volume on the top, and I also wish her boobs looked a little less fake.
3. Tina Fey in Narciso Rodriguez.
I am obsessed with this colour! OBSESSED. Cobalt blue was a big colour for fall this year, and I am loving it on Tina. The cut of the gown is really flattering, and she looks fabulous.
2. Malin Akerman in Marchesa.
This is so ethereal and angelic. I love that she kept the accessories to a minimum since the details of the dress are so intricate already. The colour is almost an ice blue, which I love and I really like her hair. Brava!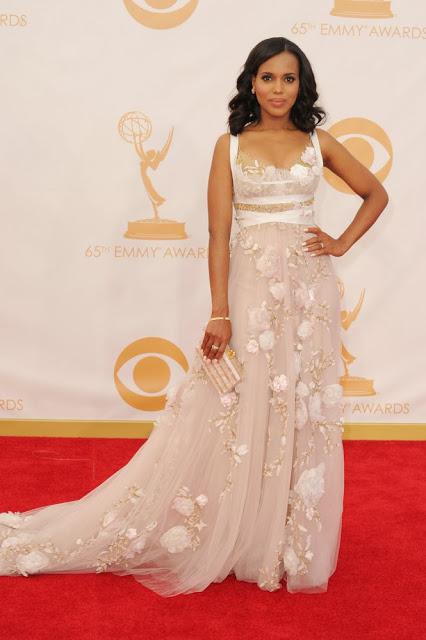 1. Kerry Washington in Marchesa.
I love Marchesa. They do glamorous red carpet gowns like almost no one else. The applique on this gown is simply stunning. The best word I can think of to describe this is dreamy. She looks like a beautiful fairy princess. Every girl's dream, right?
And now for the worst! There were some doozies.
5. Heidi Klum in Versace.
I have said it before, and I will say it again, for a supermodel, Heidi Klum truly has terrible style. This looks like a superhero costume. The neckline is completely crazy. All wrong. I just pictured Donatella Versace wearing this, and it just seemed all right somehow.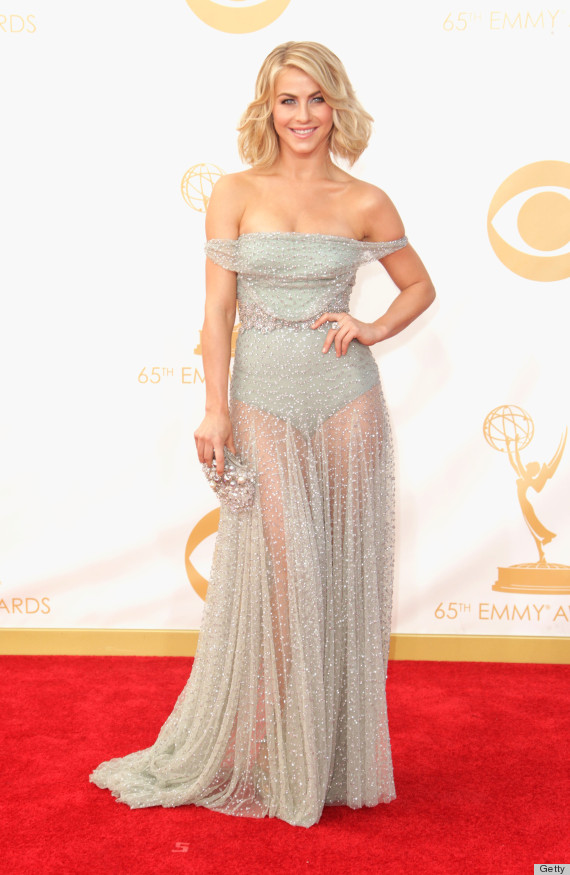 4. Julianne Hough in Jenny Packham.
We can see her underwear. On the red carpet. Who is her stylist? Who on earth let her out like this?
3. Paula Abdul
WTF. This is all kinds of wrong. The gold lame reveals every glorious wrinkle in the gown, which is always attractive on the red carpet. The turtleneck appears to be swallowing her up, and she has that crazy look in her eye that she's known for...
2. Zosia Mamet in Honor.
While I do think that this is a really pretty print, it definitely does not work on a gown. I am most disturbed by her boobs, though! What, exactly is happening there? The little leather bandeau appears to be about three sizes too small, and it keeps bringing to mind electrical tape. This is all kinds of wrong.
1. Lena Dunham in Prada.
I feel like Lena Dunham prides herself on looking extremely unattractive, which is probably the stupidest thing I have ever heard of. She really could look about a thousand percent better than she chooses to. This is probably the most unflattering dress she could have chosen, it makes her look about as big as a house, which is not the case at all. Again, this print is all wrong for a gown. Then there is her hair situation. She could really do a lot better.