The Oscar red carpet this year was unfortunately, a bit of a let down. There were only a few stunners, and even worse, there was nary a train wreck! Even the bad dresses weren't that bad. Since there is not really that much to comment on, I am just going to show you some of the looks and tell you what I think.
Lupita Nyong'o in Prada.
I have to give this girl serious credit for looking fantastic in Prada on the red carpet, something that almost never happens. Usually Prada is a bit too avant garde to work on a red carpet, but this is so pretty. I love the colour and the ethereal feeling. My only problem is the headband! Apparently it is custom Fred Leighton, but to me it seems more like homemade kitchen twine.
Jennifer Lawrence in Christian Dior.
While this is head and shoulders above the Dior she wore to the Golden Globes, I just find it so boring. The thing that makes me the most annoyed about this is that I know she can do way better. For examples of this see her in Calvin Klein on her first Oscar red carpet, or in Dior at the 2013 Oscars. I love her necklace, and how she wore it longer in the back. the colour of her dress is pretty, but I am so over the peplum trend...ugh. As for her hair, I can't. I just can't. It looks like Jane Fonda's hair!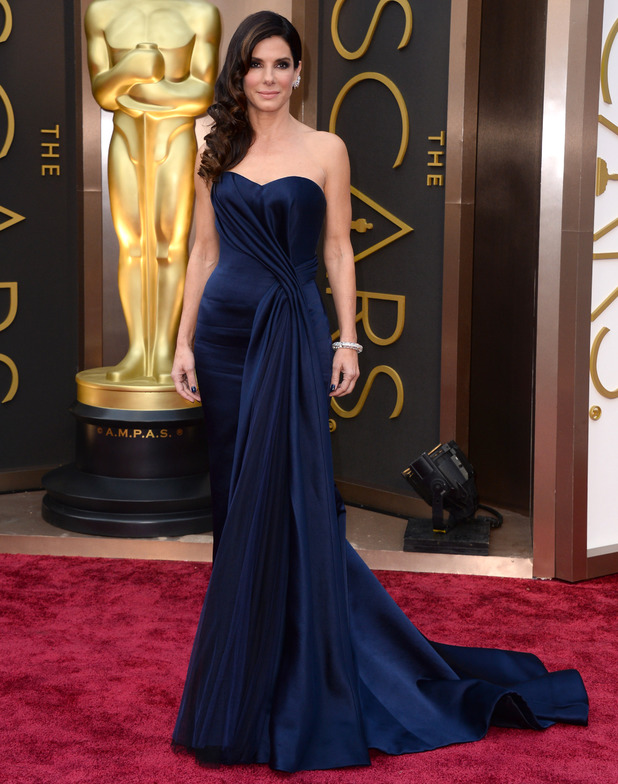 Sandra Bullock in Alexander McQueen
I love this, so Old Hollywood glam. The inky blue colour is so gorgeous, and I love the draping. The hair and makeup are on point. Perfection. Alexander McQueen really can do no wrong in my book.
Anna Kendrick in J. Mendel
What the FROCK? Poor Anna Kendrick, she is so cute and a great actress, but this is a hot mess. After the Angelina leg-pose at last years' Oscars, no one else should ever try to do a leg pose in a black gown. The asymmetrical bodice is really confusing and the sheer, printed midriff portion of the program is terrifying. This gown cuts her body up too much, making her appear much shorter. Overall, an unfortunate fail.
Charlize Theron in Christian Dior.
Poor Jennife rLawrence! They keep giving the good Diors to Charlize. While I generally find this gown to be stunning, I cannot get past the shoulder straps. Why, WHY did they make them nude? It looks so odd with the bodice ending in those squared-off points. They shuold have made the straps bejewelled, or just black. Other than that, this is gorgeous.
Elsa Pataky and Chris Hemsworth
Here is a tip for anyone who is pregnant...draw more attention to your boobs, and define the spot directly below them, just before the belly begins. DO NOT, under any circumstance, define the area directly below the belly. Joan Rivers said that this does not look like a baby bump, it looks like a beer belly, and unfortunately, I have to agree. Look to Olivia Wilde for cues on red carpet dressing while preggo. Elsa's face looks beautiful, anf her arms are super-toned, so I really don't feel at all like she is the problem, or even her baby bump. The problem is the dress, her stylist (who needs to be fired, STAT), and her husband who let her leave the house like this! Maybe she thought his hotness would overshine her terrible gown. Looking at him does sort of soften the blow made by this dress...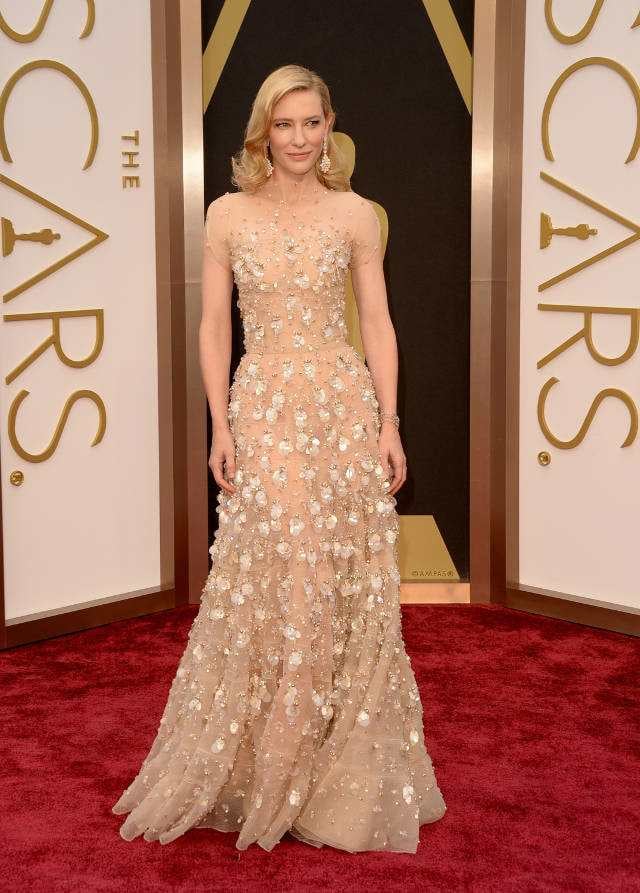 Cate Blanchett in Armani Prive
Cate the Great does it again. The detail and workmanship in this dress is simply astounding. So looks so gorgeous and ethereal, but fashion-forward at the same time. I love her earrings (Chopard). She is one of my all-time favorite red carpet queens, and in my opinion, one of the greatest actresses of her generation.
Kate Hudson in Atelier Versace
Number One Look of the Evening. Wear a cape, and you will be my best dressed. That is basically my rule. The fact the this is a
backless
cape is blowing my mind a little. The whole premise of a cape is that is covers your shoulders and back, and yet this one is even more fabulous than most capes, because it HAS NO BACK. White is a gorgeous colour on her, in fact it is an excellent choice for most blondes. I need to wear more white! The deep plunge works because of Kate's minimal chest, and in combination with the shoulder pads on the cape is a great 1970s/1940s reference. Her hair and makeup is also on point. If I were her, I would literally never take this cape off. In fact, I was a little disappointed that she took it off after she was inside the theatre. Ok, everyone, I gotta run. Off to buy a cape!