Rose Byrne in Elie Saab. She is white-hot fierce. If you follow my blog, you will know that I am extremely into the seventies, so it will come as no surprise that this is my number one look. The fact that she said she was inspired by Michelle Pfeiffer's charater Elvira in Scarface makes me love this even more!
And now....the worst!
Number 5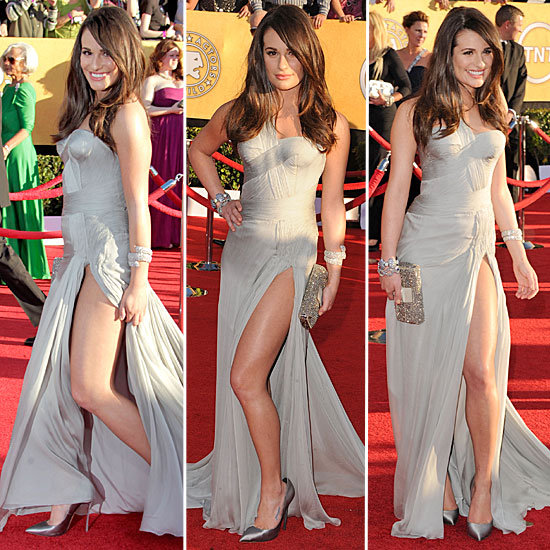 Lea Michele in Atelier Versace. Well, I'm fairly certain that Lea thinks she looks pretty hot. Sadly she is sorely mistaken. She not only looks awful fashion-wise, but all this ridiculous posing and strutting makes her look like a complete asshole. The slit is way too high, and her legs are not good enough for a mega-slit. She is no Charlize Theron. And a closed-toe pointy stiletto with this dress??? Who styled her? An idiot, clearly. Her hair doesn't go with the dress, although it does cover up one of those gross little pointless asymmetrical strap things she has going on. It's just a hot mess.
Number 4
Michelle Williams in Valentino. Red lace...the favorite fabric of saloon girls, and Vegas hookers. And the length? So wrong. Why the #*@! would she wear prom shoes??? Red satin shoes?!?!?! Really!?!?!?! Oh, right, because with that length you need something worth showing off.
Number 3
Angelina Jolie in Jenny Packman. She is wearing a garbage bag. How fitting that it is also full of garbage (ie, her). HA! I hate the saggy sad neckline of this dress, it really is everything that could go wrong with a cowl neck. The shiny black fabric looks kind of on the cheap side of things. What is wrong with Angie these days? Normally she looks great, but lately she is a big fat (well, really more shrivelled up) fashion fail.
Number 2
Kristen Wiig in Balenciaga. Wow, well, I don't think I even need to say anything about the choker. There really aren't words. Choker aside, this dress does not work. It's unflattering to her body, the top half is all baggy and saggy, the colour is blah, and its too long. Ew, I just threw up in my mouth a little.
Number 1
Shailene Woodley in L'Wren Scott. The shape of this dress is actually quite nice, but I loathe this print. You cannot take a simple shape like this, stick a freaking Hawaiian hibiscus print on it, and walk the red carpet. Sadly, I think she was attempting to pay homage to the setting of her film, The Descendants. Meryl Streep didn't show up in a Union Jack dress just because her film was set in England! What kind of thinking is that? Shailene was nominated for a Golden Globe and a bunch of other awards this year, her film is up for Best Picture at the Oscars, she is having her breakout moment, bitch needs to get herself a stylist!!! I nominated Shailene for number one worst dressed because of how much potential she had to be the best dressed, and she was just a fail. So sad.
Who was your best and worst?