Every year a little bit of Hollywood glamour comes along to make us all fantasize about fabulous parties, couture gowns, sparkling jewels and handsome men in tuxes. The Oscars have arrived at last! Since most of us don't live like the glamazons that walk the red carpet, we sit on our couches at home and watch the glamour unfold. Here is my list of the very best, and the very worst of the 84th Academy Awards. First, the best:
Tied for Number 5
Jessica Chastain in custom Alexander McQueen. She is so stunning! I love the bronze and black combination, and her loose hair is perfection.
Jennifer Lopez in Zuhair Murad. Oh J.Lo, she always gets it right on the red carpet. Such a glamazon; we would expect nothing less from this diva. There was an almost nip-slip, though, scandalous!
Number 4
Stacy Keibler in Marchesa with George Clooney in Georgio Armani. She looks like an Oscar! I have to hand it to her, she is making the most of her time in the upper echelons of Hollywood before George gets tired of her. Get it while you can!
Number 3
Giuliana Rancic in Tony Ward. This bitch is giving Hollywood royalty a run for their money! I adore the old-Hollywood feel of this dress, and the Art Deco-style details on the shoulders are my favorite part. If you are going to be on Fashion Police critiquing others you had better bring it to the Oscars. In fact, Joan Rivers liked it so much, she gave Giuliana her very own golden statue. Stunning!
Number 2
Rose Byrne in Vivienne Westwood. I adore this! In fact, I want to wear it myself. The slinky black sequins are so glam and edgy. She managed to pull off a difficult length, but it totally works to show off her hot shoes. The back detail is gorgeous, and I love the hair and makeup.
Number 1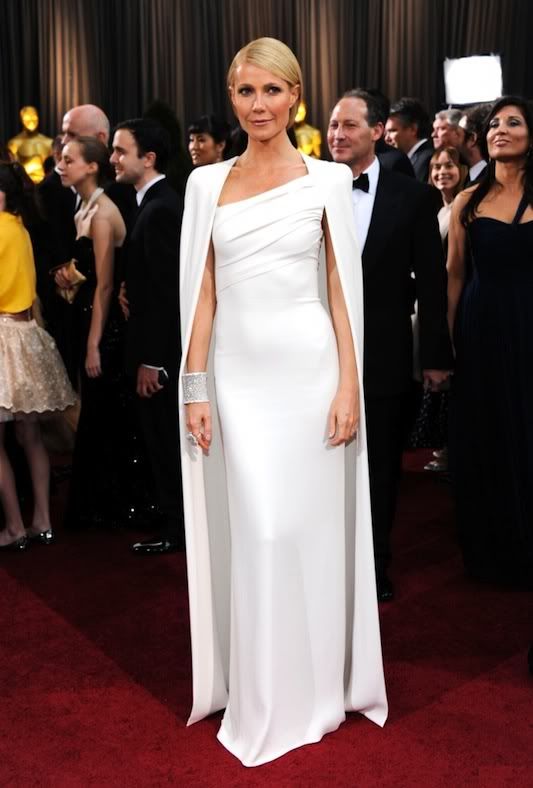 Gwenyth Paltrow in Tom Ford. A Tom Ford Cape! I'm dying. LOVE IT! So edgy and fashion-forward, but still beautiful. Her body looks amazing, and when you manage to pull off a red carpet look like this, who cares that you have only made one movie in the past ten years? She is white-hot!
Now, for the worst of the worst...
Number 5
Cameron Diaz in Gucci. Ugh, bad colour. The top is unflattering to her chest, the hair is terrible (bring back the beachy waves!), and the ruffles at the bottom look like a mess. It looks like they are growing out of big, splotchy stains. This is a very weird colour, it needs to be wither more peachy-pink or more white. All together just a miss. Cameron changed for the Vanity Fair after-party and looked a million times better in a stunning orange Victoria Beckam number.
Number 4
Michelle Williams in Louis Vuitton. So I think I have come to the sad conclusion that Michelle Williams just plain has bad style. She needs to get herself a stylist, stat. She is trying out the peplum trend, which is huge for spring, but it just doesn't work on this dress. There are too many ruffles, I hate the neckline, the pink bag is bad, and the bow brooch seems out of place. Fail!
Number 3
Kristen Wiig in J. Mendel. Oh, this colour is terrible! So unflattering. And her hair is way too casual. I think this is a case of a girl who really doesn't get fashion. We have seen so many misses from her! She is so beautiful and talented, so just get a damn stylist!!! They are a dime a dozen in Hollywood.
Number 2
Shailene Woodley in Valentino. Arrrggg...what is the matter with this girl?!? She looks about 106 years old in this dress. Even removing the sleeves would make this dress a thousand percent better. Such a miss, when she has so much potential to be a hit.
Number 1
Missi Pyle in Valentino Delfino. Hot mess. She is in the Best Picture winner, and she showed up in this atrocity! Where do I begin with this disastrous ensemble? This colour is hard to pull off in a formal gown without the bad prom connotations. The droppy shoulder looks really sad, the brooch is distracting, and the mermaid effect is not pulled off properly! It looks like it was meant to be a short dress and then they stuck on some extra fabric at the bottom. She gets an F for Fail.