Finally, the culmination of the awards season has come, the Oscars. This is the show where all the actresses bring out the big guns. Designers wait with bated breath to see if an A-lister has chosen their gown to be the one to walk down the red carpet. Thank god that this year they went back to the formula of having an actual comedian host the ceremony. I am still trying to erase the memory of Anne Hathaway and James Franco hosting from my mind. Sadly, this year some of my favorite red carpet divas were absent. No J.Lo and no Eva Longoria. Still, there were other ladies who brought the fierce. Here are my top picks for best and worst dressed of the evening.
The Best:
5.
Naomi Watt in Armani Prive.
I love the futuristic feel of this Armani gown. The asymmetrical neckline takes it from being just another sequined dress to something more. Naomi Watts is a real fashion girl, and this is definitely a fashion-forward choice.
4.
Catherine Zeta-Jones in Zuhair Murad.
She doesn't even need to make movies anymore. All she has to do is show up looking like this, and everyone will know that she's a true movie star. I like to think that her look for Oscar night was inspired by Oscar himself, because she totally looks like the statuette!
3.
Jennifer Lawrence in Dior.
This is usually the exact opposite of what I usually like, but I love it! She looks like a princess, in the best possible way. This is the perfect choice for winning an Oscar.
2.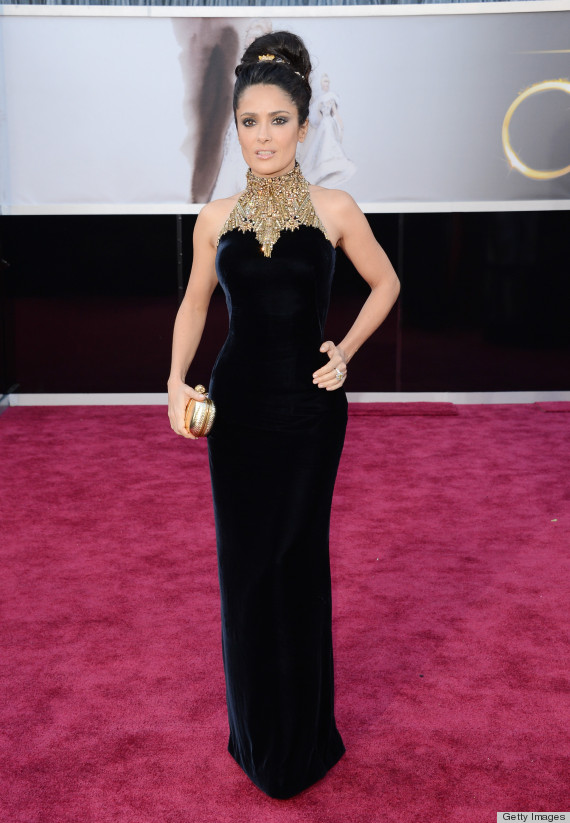 Salma Hayek in Alexander McQueen.
I don't usually like velvet gowns too much, and I don't usually like a high halter neckline, but I adore this! The house of Alexander McQueen can do no wrong in my book. I also like that Salma is changing things up by keeping the girls under wraps. Fabulous!
1.
Jessica Chastain in Armani Prive.
Apparently this dress was inspired by the one Marilyn Monroe wore to sing "Happy Birthday Mr. President" to JFK. The glittering nude tone definitely brings to mind Marilyn's almost-naked dress. This Armani gown has a beautiful coppery colour to it, which pairs perfectly with Jessica's flame-coloured hair. Perfection!
1.
Honorable Mentions:
These ladies didn't quite make my top five, but still look pretty fierce.
Sally Field in Valentino.
I love Sally Field. And this dress is gorgeous! Simply stunning.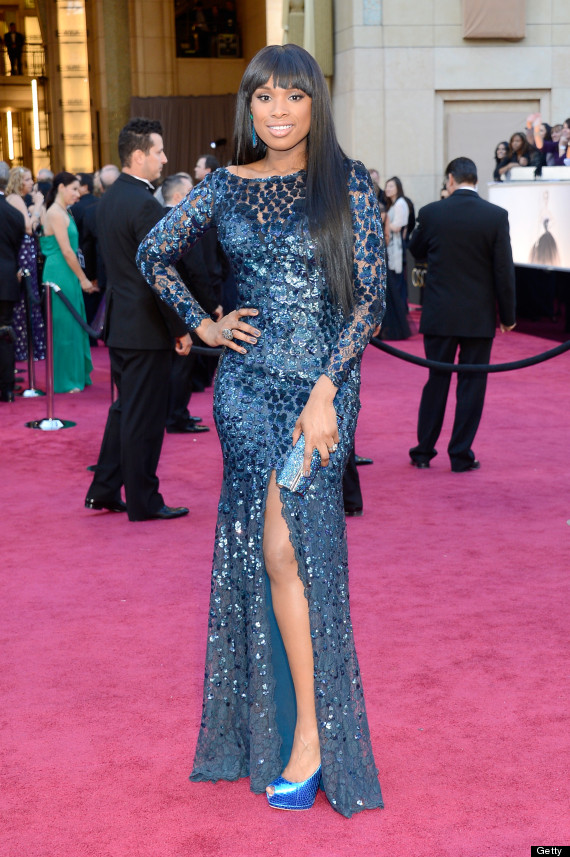 Jennifer Hudson in Roberto Cavalli.
I love love love this dress! Gorgeous. She might have made the top five if it weren't for the shoes. They looks like cheap bridesmaids shoes and they don't even match the colour of her dress. Jimmy Choo = most expensive cheap-looking shoes. Otherwise, perfection!
Maria Menounos in Ramona Keveva.
Ok, just try to look beyond the terrible pagent queen hair, and you will find that this dress is gorgeous. The Peptol-Bismol pink manages to look sophisticated when done in a body-hugging mermaid shape. In fact, the colour is my favorite thing about this whole look!
Charlize Theron in Dior.
This lady looks better than anyone else in Dior. You can't really tell in a photograph, but the peplum of the dress is entirely covered with pearl beads. I am not a huge fan of the super-short hair, but I guess she had to cut it for a movie role, and she manages to rock it pretty well.
Kerry Washington in Miu Miu.
I love this coral shade, and the jewel-encrusted bodice is stunning. The bow makes me think of Jackie O, which I love. Gorgeous!
Octavia Spencer in Taashi Shoji.
This woman (or her stylist) knows how to dress for her body. She looks like Cinderella! It's hard to see in the photo, but the bodice is embellished with pearl beading. Stunning.
The Worst:
5.
Melissa McCarthy in David Meister. Just because she is a big girl doesn't mean she can't look good. It isn't tailored properly at all, it actually looks too big! I feel like by covering every inch of skin she actually looks bigger than she really is. And the colour is not glam enough for the Oscar red carpet.
4.
Naomie Harris in Michael Badger. This is the winning gown for the Red Carpet Green Dress Chanllenge. Barf. That slit is ridiculous. Everyone can almost see her lady bits. And the pattern on the top looks like a giraffe.
3.
Helena Bonham-Carter in Vivienne Westwood.
WTF??!!?? She looks like the Wicked Witch of the West. That was probably the look she was going for, though, so mission accomlished!
2.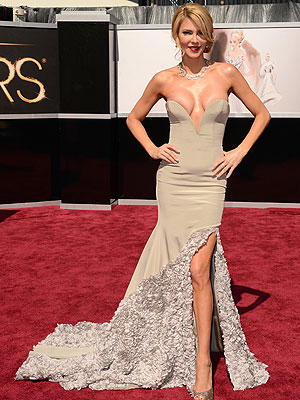 Brandi Glanville wearing....Brandi Glanville?
Yes, apparently she designed this dress herself. Which clearly expains why it looks so slutty. Before we can even address this atrocity that is her gown, I have to ask, WTF is she even doing at the Oscars? Did she sneak in while security was looking the other way? Is she someone more important's date? Back to the dress. It doesn't even fit her boob job. Speaking of boob job, she should really ask for her money back, because it looks terrible. This particular shade of beige is doing her no favours. I think the one work that sums this whole look (and her) up is desperate.
1.
Anne Hathaway in Prada.
Ew, I hate this dress. Those aren't actually her nipples, but darts. How such a pretigious fashion house could make such a simple mistake in the design is beyond me. It looks like her highbeams are on. The high square neckline is reminiscent of the '90s. And the necklace is all wrong with the dress. The colour totally washes her out, too. Unfortunately, she will never be able to forget this dress, since she won an Oscar in it.