Jeans...there is so very much to say about them. They are worn by farmers as well as Beyonce. They can cost $2 or $2,000. Almost everyone owns a pair, yet so many own the wrong pair unfortunately. They are such a classic wardrobe staple, but they cause so much trouble for so many women. Finding the perfect pair that not only feels great, but looks fantastic as well can be pretty tricky. Here are some general tips for finding your bum a perfect match:
Generally speaking, a higher rise is more flattering to almost everyone. Not to mention that an extreme low-rise is very 2001. Especially when accessorized with a flash of thong (also known as the whale tale). Not a good look for anyone. A higher rise is one of those great things that is on trend as well as flattering. A win for everyone. Except for muffin tops, they tend to lose with a high rise. But a loss for the muffin top is a win for everyone else. Usually a mid-rise, which comes just below the belly button does the trick, if you're not comfortable with clothing at or above the belly button.
Marilyn Monroe rocking a pair of high rise jeans on the set of River of No Return. No muffin tops here!
Another key component of a good pair of jeans is pocket placement. The pocket must sit on your actual rear end. The whole pocket must be on the cheek! It must not sit in the bum crease, where half the pocket is on your actual bum and the lower half of the pocket is on the top of your thigh. This is so crucial: the pockets must be high on your cheeks, not low in your crease! Recite this mantra. If this rule is not followed you will get a sad, droopy low hanging bum, regardless of whether or not this is the actual state of your bum.
Marilyn's perky bum - a yes.
A definite no to this flat and droopy situation. It looks like her actual bum starts where the hideous stitching begins, but the pockets sit much lower, creating this unflattering situation.
Levis with pockets ON the bum, creating a much perkier look.
Another common jean feature to be wary of is fading. Generally speaking if you want a faded look, choose a style that is totally faded. Avoid weird patches of fading along the thighs and be very careful of "whiskering", which is the little strips of fading that swipe across the hips. These accents can sometimes accentuate areas that you might not want accentuated.

An example of unflattering whiskering. This pair of jeans actually has a number of other horrific things going on as well. Starting with an extreme low rise, as well as a bejewelled button, and my personal favorite, what appears to be some nude pantyhose underneath it all. Say no to all of this.
Keeping all of this in mind while denim shopping can be difficult, especially when you also need to consider what style of jeans you are looking for. I'm not going to tell you what style is right for you because everyone has different needs based on your lifestyle. Instead, I will just share with you my personal favorite styles. I hope you like them too!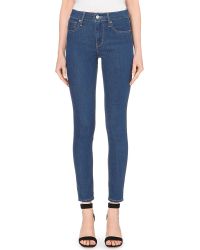 Skinny jeans are a classic staple that is so versatile.
My current favorite style is the high rise skinny from Levis.
Seventies flares are another favorite of mine.
To really nail this look make sure to choose a high rise and a style that is really long (hem them to mostly cover your shoes). Also, keep in mind that this is very different flare than the one you wore in grade eight if you're close in age to me. The flare needs to start at least at the knee, not all fitted and then a sudden flare at the ankle, which can look dated. This style is from Free People.
Make sure the rear view is good too!
My other favorite jean style is the boyfriend jean.
Choose a style that is still fitted on the hips and then is looser in the legs. This style is always best cuffed and with rips. Boyfriend jeans are great to wear casually with sneakers or flat sandals, but I really love them dressed up with some killer statement heels. These ones are from Sun and Shadows at Nordstrom.
I will leave you with a parting shot of quite possibly the worst jeans of all time. Say no to everything happening here: the cuffed capri length, the white stitching, the embellished pockets, all culminating in a truly heinous pair of jeans. I just know that on her feet are a pair of foam platform flip flops. So please, get your rear into a pair of jeans that make you feel fabulous, and if this final pair are what makes you feel fabulous, then that is great. Just know that I will be secretly judging you if I see you wearing them.