Welcome to 2014! I have decided to change up the format of my red carpet reviews a bit. New year, new format! Instead of listing my best and worst five, I am going to list my hits in no particular order, and then finish with my number one favortite. Then, I will do the same with my misses. I hope you enjoy the new format!
The Hits
Olivia Wilde in Gucci Premiere.
This is a tab unfair. The woman is pregnant and yet she looks better than most unpregnant women. I adore the emerald green sequins, and the long fitted silhouette. This gown proves that you definitely do not have to show any skin to look sexy. Love it.
Lupita Nyong'o in Ralph Lauren.
She was the break out fashion star of the evening, hands down. I had never even heard of her until I saw her on the red carpet. Anyone who can pull off a cape is on my hit list. The bright tomato red shade is so flattering with her skin, and I love how the cape is off the shoulder. Perfection. Let's hope she keeps it up.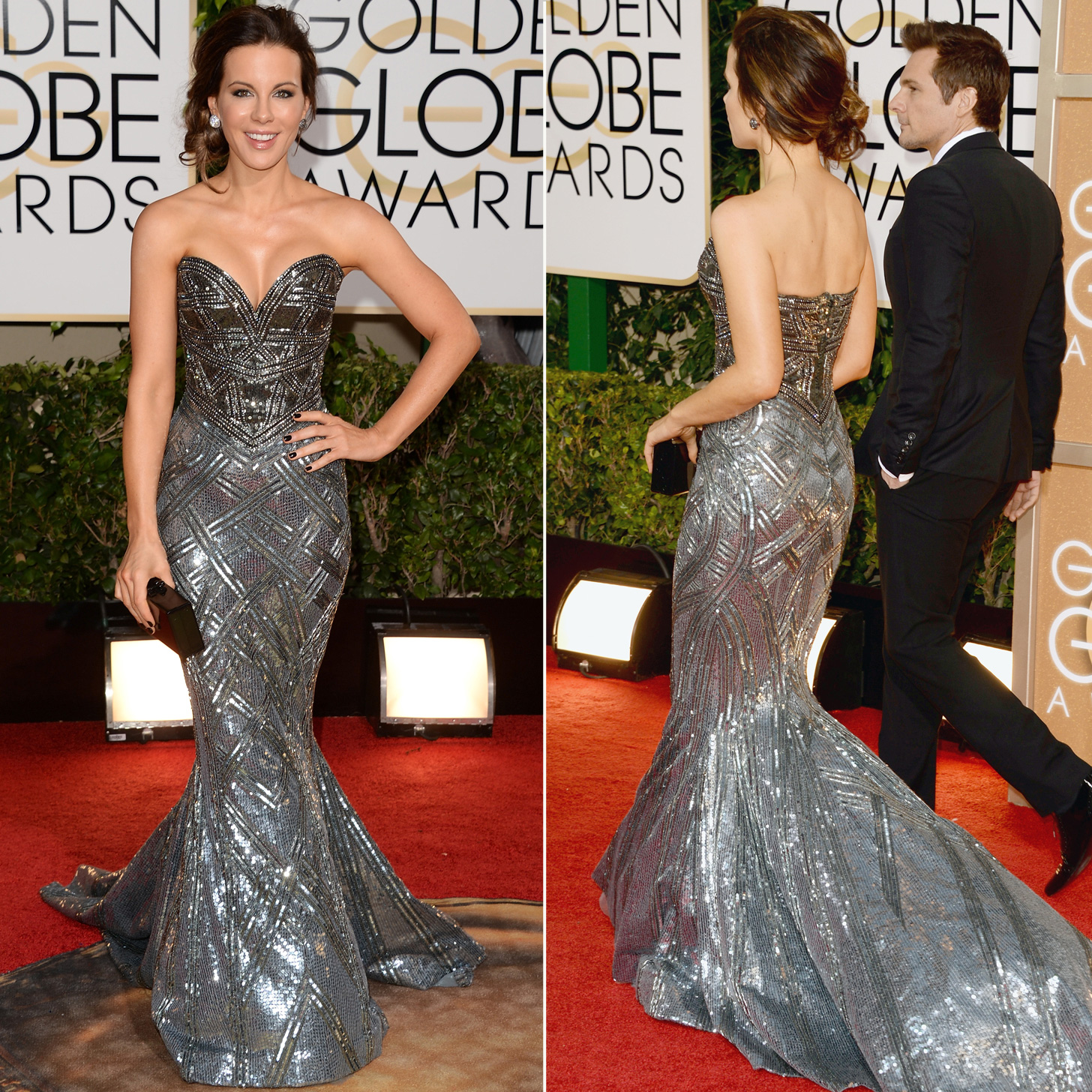 Kate Beckinsale in Zuhair Murad.
I had to show this one from the front and from the back because everyone needs to see that amazing mermaid train. In fact, she kind of looks like an amazing, shiny, hot mermaid. Is there any other kind of mermaid, though? I love the beautiful intricate pattern of the gown, the amount of work that must have gone into that is insane. The fit is perfect, and I love her hair and makeup. Kate always gets it right on the red carpet.
Naomi Watts in Tom Ford.
So simple, yet so effective. The pale metallic colour looks so great with her hair and skin tone. Tom Ford is one of the only designers that almost never gets a miss in my book.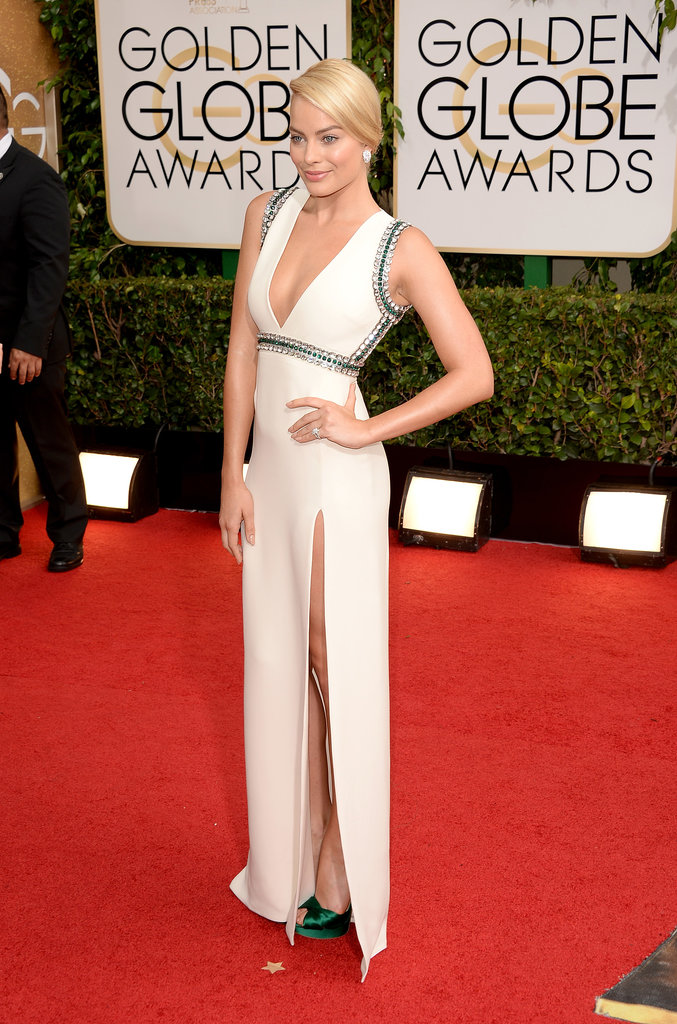 Margot Robbie in Gucci Premiere.
I love the crisp white with the emerald green crystal detailing and the matching shoes. The plunging neckline works because her boobs aren't too big, and the slit is just the right height. This is perfection. It makes me even more sad that her show Pan Am got cancelled!
Dame Helen Mirren in Jenny Packham.
This is how I dream of looking in my seventies. She looks SMOKING HOT. I love the gathered ruching on the sides, the beading, and the gorgeous colour reminds us that spring is (hopefully) around the corner. This dame can truly do not wrong.
Mila Kunis in Gucci Premiere.
Another metallic gown! This is a great trend to follow, as it's not even really a trend when it comes to the red carpet and with so many shades of metallic to choose from, there is a shade for everyone. I love how this gown juxtaposes the hard, edgy, metallic elements with the flower appliques and the flowing chiffon skirt. Keeping her hair really simple and off her shoulders was the right choice for a high-necked gown with so much detail near the face. It's a definite hit!
Emma Thompson in Lanvin.
I would still love this woman if she showed up in a garbage bag. But she sure didn't! I love the gold finish on the top half of her dress, and the simple black skirt is a nice finish. Her hair colour is also spot on. Just as a happy side note, she presented the award for best screenplay barefoot, with her shoes in one hand and a martini in the other hand. Love her.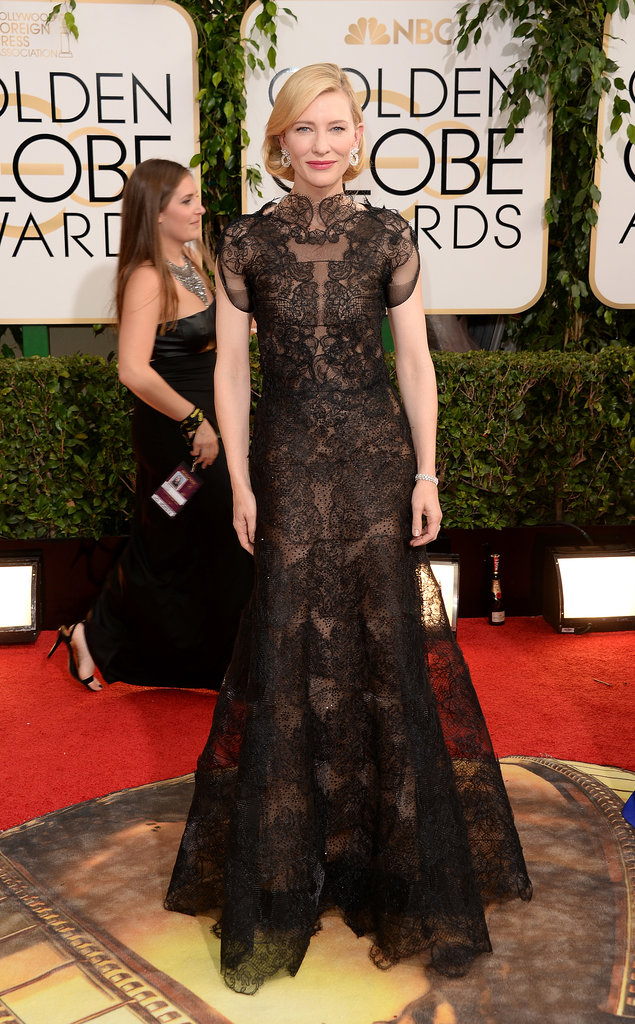 The Biggest Hit: Cate Blanchett in Armani Prive is my Best Dressed of the night.
Ahhh, Cate the Great. The dress is simply STUNNING. I adore the lace on the sleeves and the neckline, and when she turns around, the gown is backless! Her hair, makeup and jewels are perfect. Cate truly is a real fashionista. She can pull off things are so edgy and fashion-forward and make them look so beautiful. The key to this is perfect fit and confidence; wear the dress, don't let the dress wear you! Obviously, in addition to being the best dressed, she also won Best Actress - Drama. I bow down to you, Cate.
The Misses: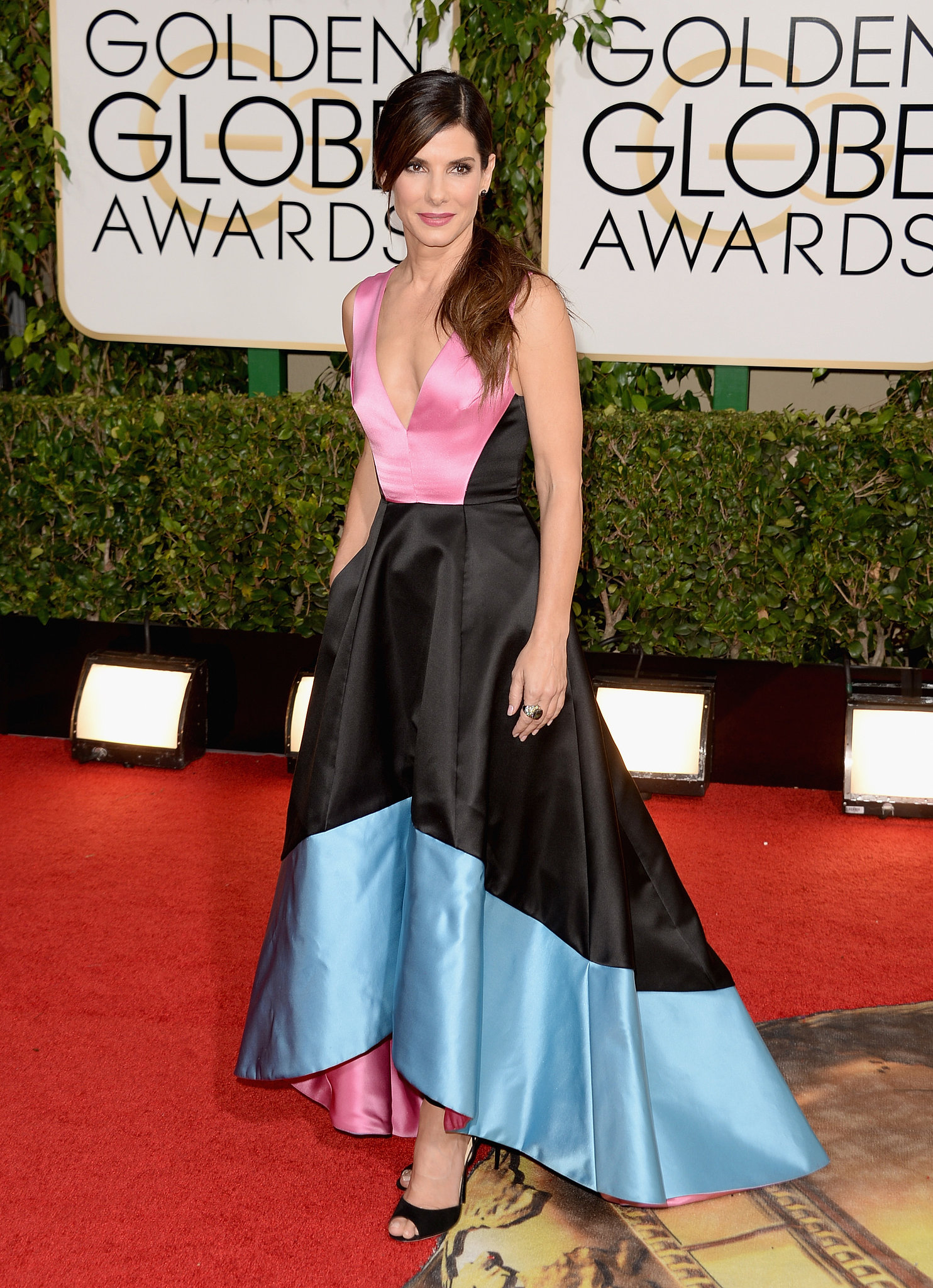 Sandra Bullock in Prabal Gurung.
Sandy, no! Normally she looks so good on the red carpet, but this is a mess. I hate that heavy satin fabric, especially in the pink and blue colours. The length is also awkward and while I do like a side ponytail, this one is too messy for the red carpet. At least she didn't win so she can just quietly forget that this dress ever happened.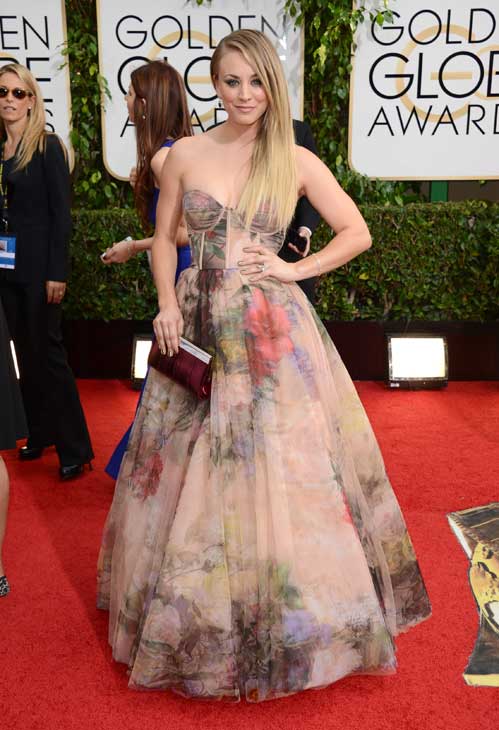 Kaley Cuoco in Rani Zakhem.
In theory this dress does have the potential to be quite beautiful. The painterly flowers in muted colours sound like they would look lovely. In execution, however, it's pretty awful. The colours completely wash her out and are in no way at all flattering. The way the pattern ended up on the gown, with the brownish shades at the hem, makes it look like she got in a tussle with a mud puddle and lost. A dirty-looking dress is never a good thing. I also hate her hair, why does it need to be covering half of her bodice?
Hayden Panettiere in Tom Ford.
As I mentioned above, Tom Ford almost never gets a miss. Almost never. However, apparently Tom has a rule that he will only dress one person per event and he did a fabulous job dressing Naomi Watts. Hayden Panettiere was alledgedly
desperate
to wear Tom Ford, and since he was already dressing someone else, he wouldn't dress her. So, she went out and dropped $10,000 of her own money on this gown, and showed up at the Globes looking a hot mess. This is what happens if you try to take genius of Tom Ford into your own hands. The dress itself is gorgeous, but it is all kinds of wrong on Hayden. She is way too short for this style of gown, and she completely ruined it with the wrong shoes, terrifying hair, and that god-awful brooch. It is an abomination to deface such a stunning gown.
Lena Dunham in Zac Posen.
Oh, Lena. Poor Lena, she really just had no idea how truly terrible her personal style is. This is another example of right dress, wrong girl. I do think that this is a beautiful dress, but it looks awful on her. She is too pale for this colour and the fit is so bad. It squeezes her in all the wrong places, creating excess upper-boob fat, and an unflattering stomach region. Also, her tatoos are really gross, and it appears as if she forgot to her her hair done. Apparently, her and Zac Posen are really good friends, but after this misfire I would really consider him to be more of a frenemy than a friend.
Drew Barrymore in Valentino.
I decided that since she is pregnant I would be nice and use a side shot, since this looks even worse from the front. Poor Drew, you just cant get around the fact that all the preggo ladies on the red carpet will be compared to each other, and there really is no competing with Olivia Wilde. All I will say (because I can't really abide by being too mean to a pregnant lady) is that this gown looks like some kind of Valentine's Day costume.
The Biggest Miss: Paula Patton in Stephane Rolland.
Oh, dear. She looks like a soggy pile of toilet paper. Once you've been compared to something made for butt-wiping there is simply no coming back. Her Charlottle Olympia shoes are cool, though. But, no, just no...She will forever be the lady who came to Golden Globes swathed in TP. End of story.