The theme of this year's Costume Institute Gala at the Metropolitan Museum is Charles James: Beyond Fashion. Considered to be "America's First Couturier," James was known for his detailed, highly structured ball gowns which were worn by actresses and socialites throughout the 1930s, '40s and '50s. Despite alledgedly being an inspiration for Christian Dior's New Look, and his incredible skill James is all but forgotten as a great American designer. I had never heard of him until just a few months ago, when I read an article about him in Harper's Bazaar. I am so glad that his work is the subject of this year's exhibit. Now many others will know this great talent.
Dita Von Teese in Zac Posen.
This is an amazing gown. The petal-like fronds of the mermaid skirt are an homage to Charles James's famous clover dress. I love how this stays within the theme, and yet is interpreted in a modern way, The only thing I would change slightly is the colour. This pale shade is just a little bit too close to her skin colour.
Blake Lively in Gucci Premiere.
This girl always looks amazing. I can forgive her for not really sticking with the theme because she looks so good. And, she's kind of wearing a cape. This make me think that I need to start wearing more champagne shimmer coloured things. And, obviously, more capes. Plus, Blake had the best looking accessory of all: Ryan Reynolds.
Nicole Richie in Donna Karan.
If you insist on rudely ignoring this theme of the night, then you really have no excuse for lookin like a total mess. Nicole Richie certainly did not follow the theme and she one hundred percent looks a MESS. The purple hair is just not cute, and her shapeless metallic patchwork gown jsut doesn't work. Sadly, I really think that her anorexia is back. She just doesn't look well. She truly looked her best ever when she was pregnant with her baby Sparrow or Swallow or Harlot or whatever.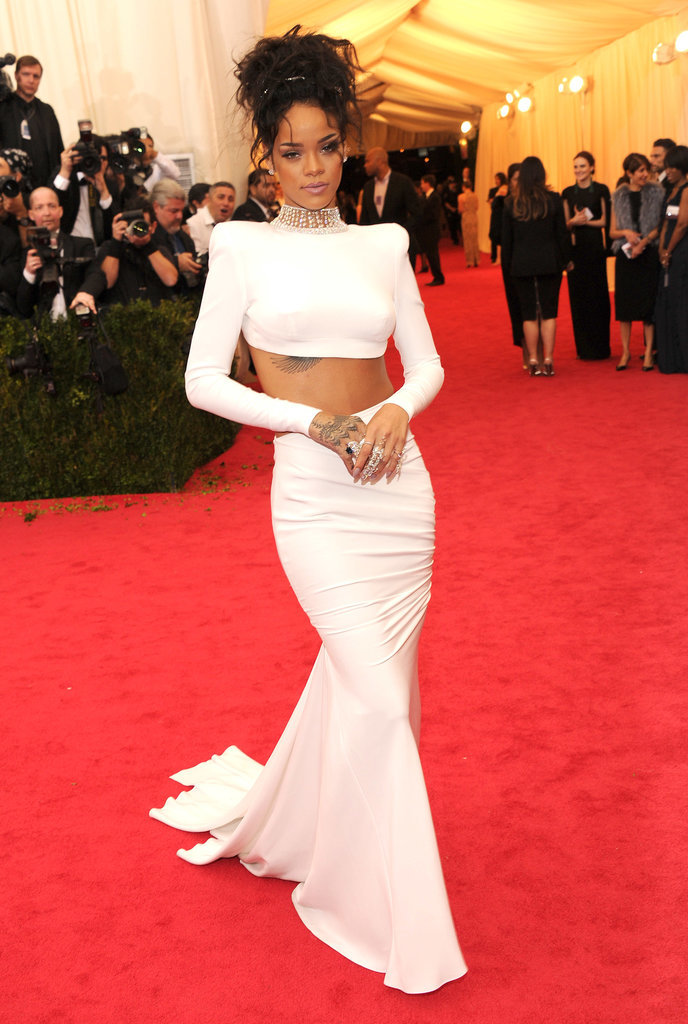 Rihanna in Stella McCartney.
This is just plain trashy. The top is way too cropped (and it's also backless), the hair looks like rat's live in it, and the Star Trek shoulder pads combined with the turtle neck just does not work. The worst part though is her horrible ratchet tattoo peeking out of her top. So many "fashion commentators" loved this look, but I think that they are just caught up on the Rihanna bandwagon, and are blinded by past things she has actually looked good in.
Karolina Kurkova in Marchesa.
Now this is a gown. The structure and workmanship that went into this is incredible, and is truly an homage to Charles James. I would have liked if her makeup was a little bit bolder, so that her face isn;t quite so overwhelmed by the gown. Other than that I think this is a perfect choice.
Sarah Jessica Parker in Oscar de la Renta
Most fashion critics loved this look, but I think it's a miss. From the front this ball gown looks like a replica of an original Charles James, which I love. However, there is a big problem with wrinkling, the gloves are too reminiscent of a bad prom, the hair is terrifying, and then there's the back. The grid is really ugly and take away from the dress, and then there is the massive red Oscar de la Renta signature. I am not sure if there is anything more tacky. Poor SJP, normally she looks so awesome, even when she looks a bit nuts.
Rita Ora in Donna Karan.
This is a nightmare. The shoes are bad enough, but the arm band??? I think we can all agree that either Rita or some poor, misguided stylist decided at the last minute that an arm band would be
fabulous.
This was an unfortunate decision. She looks like a ballerina hooker.
Diane Kruger in Hugo Boss.
I love this. Simple, yet effective. The icy silvery blue shade looks lovely on her and I love the cinched waist. She chose not to follow the theme, but she at least looked amazing.
Lupita Nyong'o in Prada.
This is offensive to me. She could be forgiven if the theme was 1920s or flapper fashion, but there is absolutely no excuse for this under the circumstances. She has a flawless track record on the red carpet so far, so WTF happened here? She looks like something that got caught in a fishing net, but something that would have been thrown back. The feathers, the crystal netting, the brown slip, the
headband
, it is all completely idiotic. I would really appreciate it if Anna Wintour kindly explained to her that this type of atrocity is disrespectful towards the late Charles James and if she ever wants to be invited to any more fashion parties (or wants to be in Vogue), this better be her last disaster. To me it seems like she is almost making fun of fashion, which I really do not appreciate. Lupita, you get a FAIL.
Emma Stone in Thakoon
I love this pink on pink crop top and skirt combo. This is the perfect way to wear a crop top: NO BELLY BUTTONS PLEASE. I love the draping on the skirt and the slit is the perfect length. Her shoes and bag perfectly complete the look. My only criticism is that I don't think that this is quite fancy enough for the Met Gala, and I hate her braid. A side braid needs some mega extensions added to make it work.
Kate Upton in Dolce and Gabbana
This is awful. The shape is so unflattering on her body, I hate the sheer panels, and the thing on her head looks like something a Spanish widow would have worn in the 1900s. Overall, the whole vibe she is giving is that of a pirate wench, or one of Jack the Ripper's prostitute victims.
Charlize Theron in Dior.
This is a such an effortlessly glamorous look. I love the black and white combo (very Charles James). Maybe not quite as much wow factor as I would like for the Met Gala, but to be fair nobody really brought any wow this year.