Ah yes, spring is in the air. Some days the coming spring that is in the air is mingled with snow, but it is coming, sooner or later. With a new season comes new fashion of course! This year's spring trends have me really excited for warmer weather on the way. So, here are my favorite trends for spring 2017!
The New Dress Shirt
The classic dress shirt has been reinvented and taken to new levels this season. Traditionally a basic (boring, if you ask me) worn under suits, the Gordon Gekko classic has become a fashion must have. Rather than a straight forward borrowed from the boys style, the new dress shirt often features a classic blue and white stripe, but with a feminine twist.
Last year's off the shoulder trend continues and is now being incorporated into the shirt trend. Exaggerated sleeves are also a big trend and tie details either at the waist or on the cuffs.
A cute striped off the shoulder style from Zara.
A classic dress shirt from Nordstrom is updated with tied waist and contrasting cuffs.
Blogger Blair Eadie wearing an adorable striped top with exaggerated bows on the shoulders from Shopbop.
The ultimate shirt, this style has everything: off the shoulder, stripes, flared bell sleeves, and a tied waist. Why not go all out and just get all the shirt trends in one?
Pearls
Pearls are always a classic that never go out of style. This spring though, they are trending in a major way. Chanel has helped to cement pearls as a timeless part of any woman's wardrobe, but sometimes the classic strand of pearls brings to mind some more grandmotherly connotations than one would like. For spring 2017 pearls are having a major moment that leaves granny out of the mix. Or, if you are lucky like me brings her back into the mix when you can wear her old pearls that you inherited! The newest way that pearls are being incorporated into spring's fashions are with embellishments. Pearls on shoes, bags, dresses, jeans...anything and everything really.
Stuart Weitzman's Morepearls sandal is a perfect way to bring some pearls into your life. The black suede with white pearls is very Chanel-esque as well as being a versatile choice for your wardrobe. I got these myself in a soft pinky nude!
I am absolutely loving pearl embellished denim! A mix of ladylike pearls and edgy denim is the perfect juxtaposition. This will work best if the denim is a lighter wash and for jeans, if the fit is a bit slouchier. I love how this pair are cuffed and ripped, keeping the pearls from making the look a bit too precious. While I am not usually one for DIY fashion projects (I would rather leave that to the pros), this is really making me consider trying my hand at some pearl bedazzling! Word of advice though: please only sew on your pearls, no glue gunning, this will not look cute.

A beautiful beaded clutch from Zara.
The Statement Earring
Statement earrings are back and bigger than ever! Both literally and figuratively. For this trend look no further that Samantha Jones of Sex and the City for your inspiration. Really anything goes with this trend as long as it's big! You can choose to hit to birds with one stone and nail both the statement earring trend and the pearl trend in one. I have also seen a lot of tasseled earrings, as well as more geometric style. Keep in mind that you should not try a statement necklace and earrings together, as this will just be too much.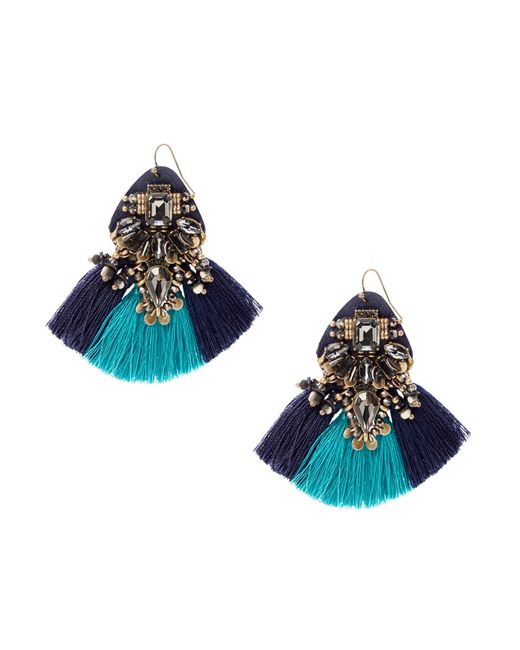 Tassel earrings from Banana Republic.
Quite the statement from the Balmain x H&M collection.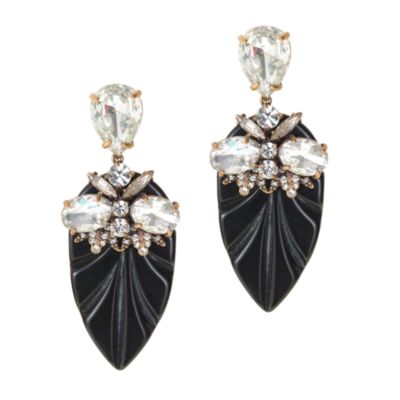 Some beauties from J.Crew
All of the styles that I included are costume jewelry at moderate price points, because unless you are Samantha Jones and plan to make this a signature of your look, you might not want to make a big investment. As for me, I have recently started wearing an old pair of enormous ones that I could never let go of, so maybe from now on I will release my inner Samantha and just rock those massive shoulder dusters regardless of how the trends shift. Bottom line is if you love one of these trends rock it! And if you own that trend sometimes you can make it work long after the fad has passed. This is that moment when a trend becomes style. So, with Samantha and her enduring earring style as our muse let's go forth and be stylish,