Now, I could never narrow this down to only one fashion icon, so the following list is in no particular order. Every fashionista needs some inspiration, and these lovely ladies always provide me with mine. And keep in mind that all of these fashionistas were also inspired by others. So really, it's just the great circle of fashion. It could be the meaning of life...
Victoria Beckham
Close to fifteen years later, the woman is still living up to the name Posh Spice. A lover of YSL shoes, Roberto Cavalli, Birkin bags, huge sunglasses, and, of course, her own line, Victoria is never caught looking a mess by the papparazzi. I love how she always looks chic and sexy at the same time in her fitted pencil skirts, skinny pants, and sky-high heels with a Birkin dangling from her arm. I need to save up for one of her dresses...they are so gorgeously flattering.
On her wedding day in 1999 wearing custom Vera Wang. Lucky bitch, that dress AND David Beckham?
In Roland Mouret with a matching ostrich Birkin, back in 2007
In a fab trenchcoat and Louboutins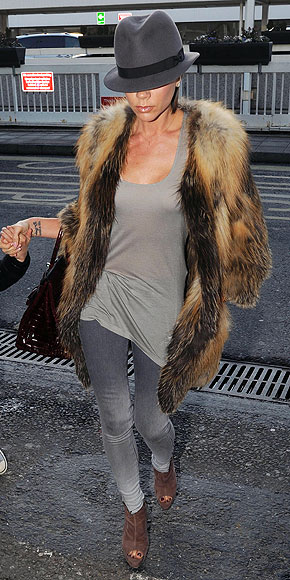 Fabulous in fur
In her own design with YSL Tribute pumps, 2009

Gwen Stefani


At one point Gwen Stefani inspired me to lust after Doc Marten's. I was in the fourth grade, so you can forgive me. Thankfully both of us have evolved past that. Few can rock a red lip and blonde hair like Ms. Stefani. And she sure knows how to wear leopard. Part '50s pin-up, part rock 'n' roll, with loads of galmour she can work the red carpet and the stage.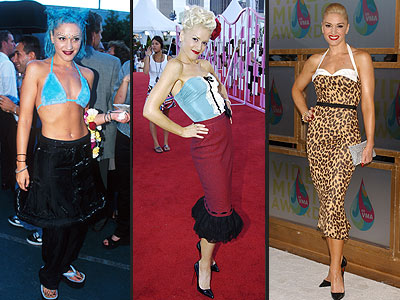 I included the image on the left as an example of how far your fashion journey can take you. And also so you might not feel so bad about any fashion missteps you may have taken in your past. Middle: rocking Louis Vuitton with Louboutins in 2004. Right: in leopard print L.A.M.B, and the same Louboutins a year later.


Doing promo for The Sweet Escape, her second album circa 2006. This look was inspired by Michelle Pfieffer's character in Scarface.

On stage with No Doubt in 2009, in one of her own designs
In Jean Paul Gaultier for her What You Waiting For? video, 2005
On the red carpet in Lanvin and Louboutins
Wearing L.A.M.B at the Met Gala, 2010
Eva Longoria Parker
Few look better on the red carpet than Eva Longoria Parker, and I also really like her off-duty style. Like her her good friend Victoria Beckham, Eva is great at nailing the sexy-chic look, but she is a little more feminine and usually opts for less severe silhouettes. Yet another queen of glam!

In Marchesa at the Met Gala, 2008. This is gorgeous, gorgeous, gorgeous! A dress like this could easily wear the woman, but Eva is 100% WORKING IT.
Stunning in Reem Acra at the 2009 Golden Globes

In Kaufman Franco at the 2007 Emmys
In Robert Rodriguez at the 2010 Emmys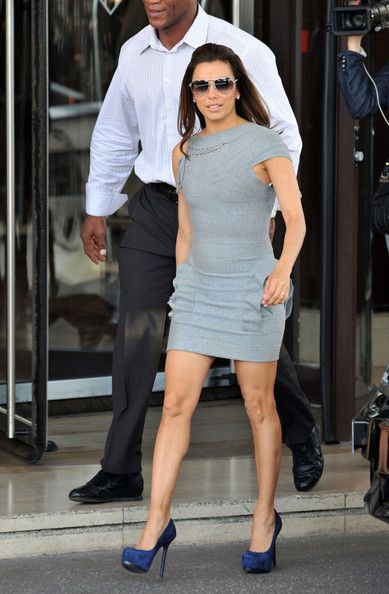 In Herve Leger and YSL Tribute platform pumps, 2010
This is why I love her...she's at a basketball game, most people are probably wearing hideous jerseys, but she is wearing seriously fierce shoes and lots of leg. I don't believe in overdressed, everyone else is just underdressed, 2010


Kate Winslet
Kate is obviously a woman comfortable in her own skin. I love how she dresses her curves to perfection and always appear effortless. Of course, she is also extremely talented.

At the 2009 Baftas (she won, obvs) in Zac Posen. I love the sexy back on this gown.
In Narciso Rodriguez at the 2009 SAG awards. This is my favorite dress I have ever seen her wear, so I had to include 2 pics.
Channeling Catherine Deneuve in the December 2008 issue of Vanity Fair. Just fur and shoes? Yes. She looks so cozy.
Cover Girl! In YSL shoes.
These are just a few of my modern style icons, but I am also inspired by women of others eras as well...perhaps they will be revealed in a post to come! I am also often inspired by people I see on the street, so the next time you get dressed do it with the knowledge that you could be someone's inspiration or muse, and if that doesn't entice you to put in a little extra effort, I don't know what will...
+