Guess what?!?! I'm getting married!!! Very exciting news and the best part is, of course, the DRESS. A girl only gets one chance to get the dress right, so it is critical to select the perfect one. I have pretty much a perfect image in my mind of what mine will look like, but you never know how these things will end up. So, in the spirit of wedding gowns, here is a list I have compiled of some of the most memorable gowns of all time. Some are stunning, some are hilarious, and some are just a hot mess.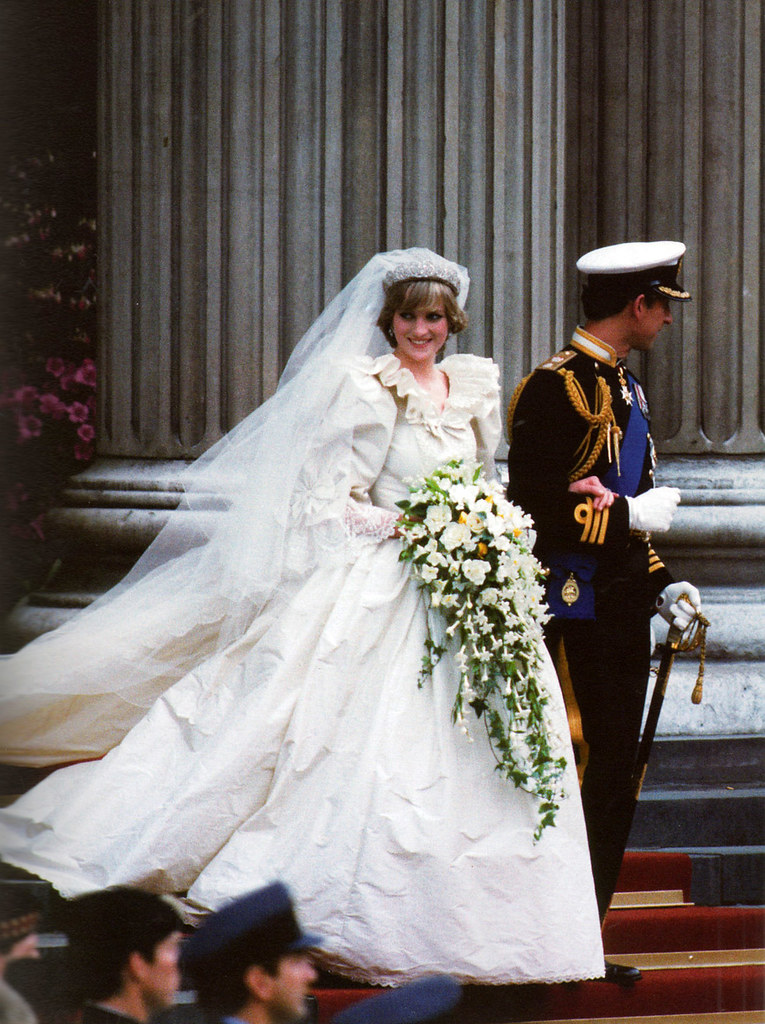 Princess Diana
This dress apparently possessed the longest train in the history of the monarch. It also possessed everything that horrifies me most about the eighties. At the time this gown represented the ultimate fairy tale, complete with a real life prince (who in the end turned out to be a bit of a frog, if you ask me). Unfortunately, while it did go down in history, I don't really think it stands the test of time. I think we can all agree that while Princess Diana truly did grow to become a fashion icon, this may not have been her best look.
Kate Moss
Kate Moss in this stunning design by John Galliano looks like a glamorous fairy princess. Which would clearly make John Galliano the magic dress-making elf. Overall, this is a pretty perfect look. The intricate beading and lace veil are so gorgeous.
Pamela Anderson
Who could forget the classiest beach wedding of all time? The day when Pamela Anderson married Tommy Lee wearing a white bikini into which approximately one of her breasts fit, was a great day for wedding fashion. Like her swimsuit, the marriage was brief.
Carolyn Bessette Kennedy
The ultimate nineties minimal bride, Carolyn Bessette wore a simple slip dress by Narciso Rodriguez to marry John F. Kennedy Jr. This is the perfect example of when less is definitely more.
Victoria Beckham
Talk about over the top! She has a crown, and apples in her bouquet. Posh Spice becomes the ultimate princess, wearing Vera Wang and marrying David Beckham in a Scottish castle.
The outfits that really need to be discussed though, are the matching purple reception ensembles. Matching purple outfits, people!!! They even put a purple top hat on their baby. These two truly were masters of the matching outfits. Does anyone else miss the coordinating Posh n Becks? I sure do.
Carrie Bradshaw
I know that this dress was beloved my many, but personally I found it to be a hot mess. The boob cups look like they could fit my whole head in one of them. The makeup is horrifying and the bird is crazy. Honestly, I might have left her at the altar too.
Kate Middleton
I'm not going to lie, I woke up in the middle of the night to watch the royal wedding in real time. This dress managed to be both modern and timeless. A royal wedding in Westminster Abbey requires a very formal and modest gown. Designed by Sarah Burton for Alexander McQueen, the dress took inspiration from Grace Kelly's wedding gown. I really love her hair and makeup, too.