This year's gala at the Metropolitan Museum's Costume Institute was a study in the influence of Elsa Schiaparelli and the house of Prada. As the most important red carpet in the fashion world, this is the time to push the envelope, and wear something daring. Many of the ladies who had the privilege to walk the red carpet on May 7 went this route. Unfortunately, not everyone got this right. Read on to see my choices for best and worst dressed!
Number 5
Christina Ricci in Thakoon
Now, I know that this look has also been on many worst dressed lists, but I beg to differ. I would like this more without the train, but in general I find it quite stunning.
Number 4
Ginnifer Goodwin in Monique Lhuillier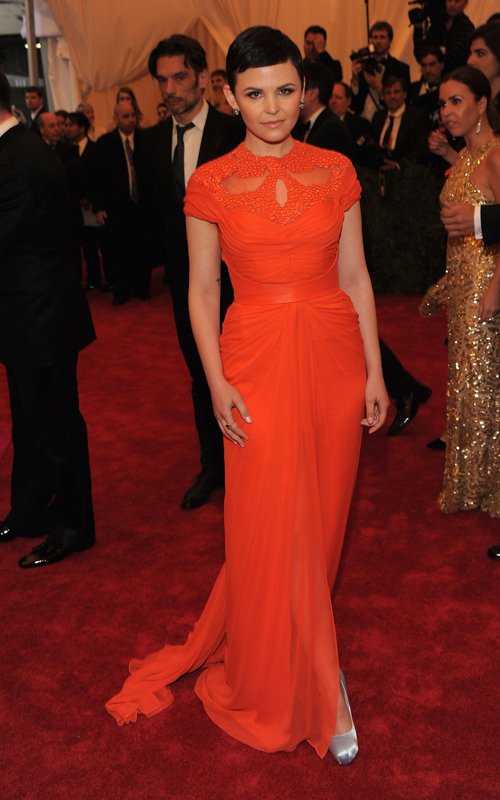 I love the beautiful draping of this gown, and the detail at the neckline. The gorgeous coral shade is right on trend for spring. I also appreciate the fact that she did NOT match her shoes (hello prom).
Number 3
Carey Mulligan in Prada
Paying homage to the theme of the evening, this look is just so fashion-forward, but it is not too over-the-top, and it is still extremely flattering. I am glad that she wore no jewellery and kept her shoes simple. Her hair also looks super-cute.
Number 2
January Jones in Versace
Something about this makes me think of a superhero, and I kind of love it. The lemony yellow shade is so flattering on almost every skin tone, and it looks smashing on Ms. Jones's porcelain complexion.
Number 1
Camilla Belle in Ralph Lauren
Stunning! I love this. The twenties reference, which we saw so much of on the spring runways, works so well here without being at all costume-y. I love the beautiful swirly pattern and the sheer panels modernize the shimmering gown perfectly. I love the dark lacquered lip and the simple hair. To die for! P.S. does anyone know what Camilla Belle actually does? Or why she was here?
And now, for the worst...
Number 5
Coco Rocha in vintage Givenchy
Now, I cannot totally hate this outfit because it once belonged to the legendary Elizabeth Taylor. However, Coco Rocha has a history of terrible style choices, and this is yet another one. How come even supermodels can't get it right? There is no shame in hiring a stylist, although I don't know how you could be a model and not manage to pick up an ounce of style along the way. And the pink hair is very high school, as in, "I'm mad at my mummy."
Number 4
Anja Rubik in Anthony Vaccarello
Well, if she was aiming to look like a starved Russian hooker, then she hit the nail on the head. This is so trashy, and the hip bone is really terrifying. I think the dead look in her eyes comes from malnourishment.
Number 3
Kirsten Dunst in Rodarte
She looks like an eighties power woman. This is terrible. And way too informal for the occasion. The shade of red is awful and it totally clashes with the carpet.
Number 2
Kristen Stewart in Balenciaga
Another eighties nightmare! If Kirsten Dunst is the eighties power woman, then Kristen Stewart is the eighties slut. This dress is so tacky and those are some of the ugliest shoes I have ever seen. Also, she appears to have forgot to get her hair done.
Number 1
Mary Kate Olsen in the Row
While this ensemble is not the worst of the bunch, Mary Kate took the top spot because she just looks so terrifying. Something about her eyes and her hair sends chills down my spine. She looks deranged. I think that after the party she might be heading home to eat puppies.