Over the last few years the red carpet at the Grammys has cleaned itself up. In past years, it has been full of Lil' Kim with nipple pasties, J.Lo in a dress cut down to her bellybutton, and Lady Gaga almost flashing her lady bits onstage. This year, though, there wasn't much of anything that would raise any eyebrows. I, for one, like a bit of scandal on the red carpet. It gives us all something to talk about. If rockstars aren't going to push the fashion envelope, then who will? Anyhow, here is my list of best and worst dressed of the evening.
Best:
#5.
Taylor Swift in J. Mendel.
Taylor could have ranked a little higher on my list, but I hate her hair. Her bangs are too blunt, and the braid is so 2009. Otherwise, I think she looks beautiful. I love the Greek goddess style dress with the silver accents. Often Taylor ages herself by dressing too maturely, but this dress is a perfect choice.
#4.
Chrissy Teigen in Joy Cioci.
I don't know who this is, but she looks hot! The only way it is acceptable to show your stomach anywhere other than the beach, is if only the area above the bellybutton is exposed. The slit is just the right height, and I am so glad she is not doing the Angelina Leg. Angelina looked like enough of an idiot doing it herself, imitators only look that much more ridiculous. I also really like her side swept hair and her contrasting clutch bag.
#3.
Solange Knowles in Ralph and Russo Couture.
I love this emerald sequined gown. The exaggerated shoulders make it more fashion-forward, and I love her contrasting Louboutin heels. Although she sort of is the lesser of the two Knowles sisters, she won the style contest this night.
#2
.
Kelly Rowland in Georges Chakra.
Despite the newly implemented dress code at this year's awards ceremony denoting "no visible breast or buttocks flesh, and be sure the genital region is covered so there is no visible puffy bare skin exposure." What on earth is "puffy" bare skin???? So weird. Kelly Rowland flashed some definite breast flesh. I say, what are the Grammys without a little breast and buttocks? She looks pretty amazing to me!
#1.
Rihanna in Alaia.
I must say it is a welcome change to see Rihanna in something soft and feminine instead of her usual full-on sexy. I love her in red, and I like that she matched her lipstick shade to her dress. I feel like this dress is elegant enough to be considered worthy of the Oscars. Although really, why would Rihanna get invited to the Oscars? Good thing she wore it tonight!
Worst:
#5.
Beyonce in Osman.
Put on a dress. It's the Grammys. She looks like she is going to dinner, not to the music industry's most prestigious evening. Now, I know she's bootylicious and everything, but her ass looks huge. This tapered pant is doing her no favors. I feel like someone like Beyonce needs to really bring it at the Grammys, and she definitely fell way short of that.
#4.
Florence Welch in Givenchy.
This is a Halloween costume. A good one too, I can totally tell that she's a dinosaur. I know that Florence Welch is "quirky" or a free spirit or whatever, but come on. Her dress has horny protrusions. The really sad part is that if you took off the weird horns this dress would be amazing. In fact, it would probably would have made my best dressed list. Instead, I sentence her to return to Jurassic Park!
#3.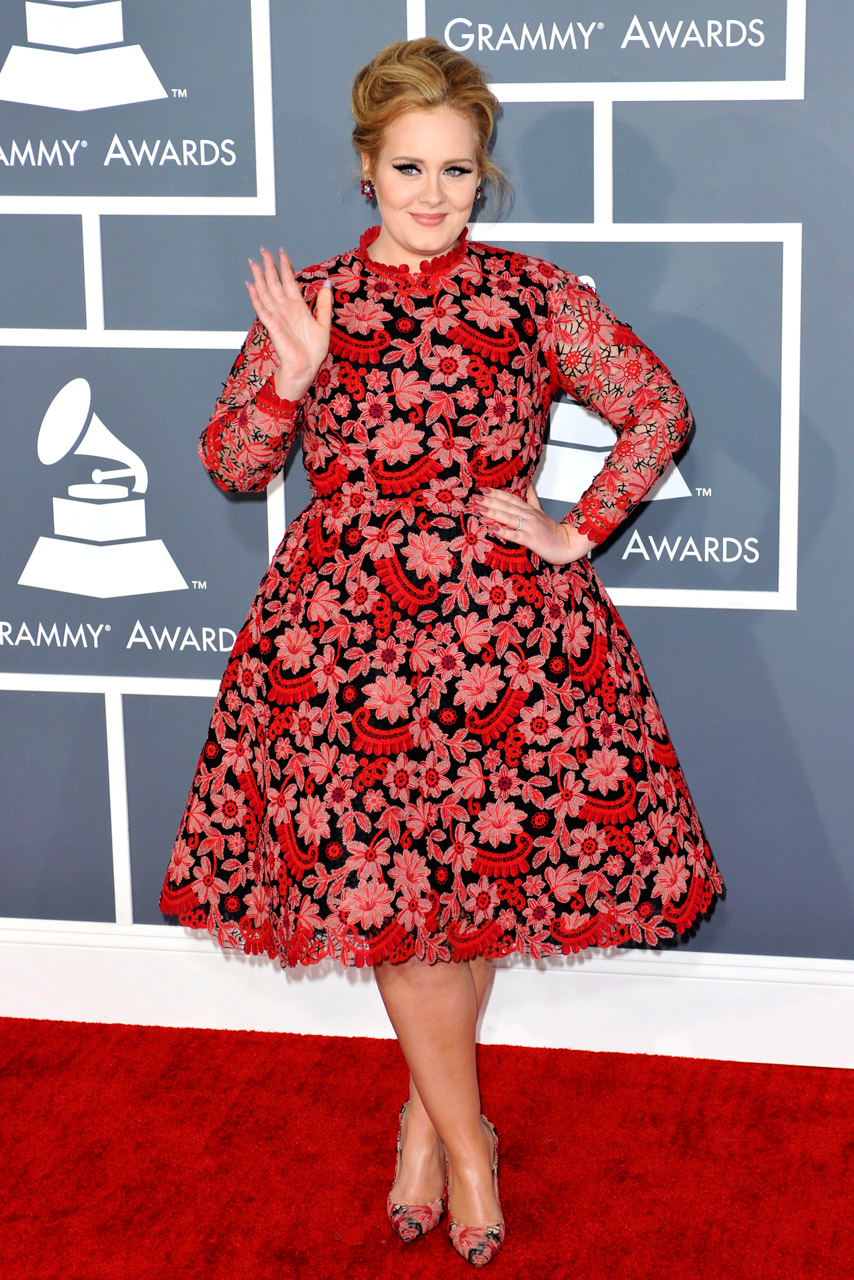 Adele in Valentino.
Gross. She looks like a couch from the seventies. And the matching shoes are so bad! I wish Adele would sex things up a little bit, she always looks so covered up and frumpy.
#2.
Lisa D'Amato.
She looks like she is in character at Disneyland. This is just plain ridiculous. She can't possibly think that this looks good. Although, if you are a bit of a nobody wearing an atrocious dress is one way to get noticed.
Lila Downs.
This is just plain crazy. There really is nothing else to say. I think the Grammy academy needs to reassess their new dress code, because I would rather see "puffy" bare skin than this atrocity any day.